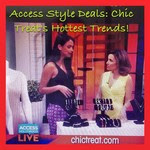 Andrea, since we last chatted you've been super busy. Threads of Friendship was recently seen on Access Hollywood Live on NBC featuring your whimsical bracelets. You must have been "over the moon". Andrea's bracelets can be seen adorning the arms of many of your favorite celebs!
1. What's been happening since we last spoke?
Threads of Friendship has grown so much and so many changes have occurred!  It's been such an exciting year. I've been focusing my personal attention and efforts on building the brand by garnering press. This has been my strength besides designing new styles. So much growth over the past year and I couldn't be happier!!
2. What was it like for you having your bracelets featured on Access Hollywood Live?
It was a dream come true when Threads Of Friendship was featured on Access Hollywood Live on the Style Deal segment. (3/20/14) This has been amazing for the brand. I'm thrilled as many celebrities are wearing my bracelets including Miley Cyrus, Eva Longoria, Kirstie Alley and just about every Disney star on the planet! Threads of Friendship has also been featured in People Style Watch and OK Magazine.
3. Is it true Access Hollywood is currently featuring your bracelets on their site Chic Treat?
Yes, Access Hollywood has a sale site called Chic Treat where the bracelets are featured live and are currently for sale. They're reasonably priced at $15.00 and are my newest and most popular styles! Each bracelet is named after a friend. For example: The Maitland bracelet is named after my friend  and actress Maitland Ward Baxter from the TV show Boy Meets World.
4. Do you still donate a percentage of your sales to a specific charity?
Yes, part of the proceeds are donated to The Walkabout Foundation. Many of the bracelets are named for the girls that work there and the Co-Founder. Each style is unique and hopefully their efforts will have an impact on all the hard work they do in finding a cure for paralysis. You can read more about this at 
www.walkaboutfoundation.org
5. How do your bracelets look best?
My bracelets are so versatile. You can wear one bracelet or a whole group of them stacked or mix them with other pieces. They' re meant to be playful, fun and affordable!
6. What's on the horizon for Threads of Friendship?
We're always adding new stores to our growing list. My bracelets are going to be featured at The Wango Tango Event at Kiss FM in Carson California very soon.
A Few Goody Gumdrops is so excited for your continued growth and success! Thank you for updating us on all your exciting news.