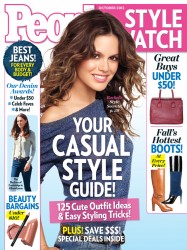 We just had an incredible interview with People StyleWatch Senior Market Editor, Marissa Rubin. On the heels of New York Fashion Week, Marissa gave us alot of insight about what's ahead for Spring 2013. Be sure to read what Marissa has to say about…azure blue, the sneaker craze, Marissa Webb, Alexander Wang, snakeskin, baring your midriff, A Few Goody Gumdrops and more! AFGG wishes to thank People StyleWatch for this amazing opportunity and interview!
1. What are the five biggest trends you are seeing for Spring 2013?
This is all based on the NYFW SS13 runways; however, a lot can change in a month once the European collections have shown. Sporty chic-Alexander Wang really brought this girl to life and everyone has since followed suit. Though not a novel trend, the AW influence was everywhere. Raffia-this fabric really had a runway resurgence. My fave was seen in Tory Burch's covetable collection. Sheer details and skin-whether it was in mesh, netting, cutouts, panels, or grommets, the illusion of skin (and actual skin-exposed midriffs, mini skirts and short shorts) were all over the runways. Mod-the clean-lines shapes of the Mod movement informed many a Spring silhouette. And finally, the Fifty Shades of Grey and Helmut Newton influence-it was sex appeal and the forbidden, hard and soft, black and white, leather and lace, the leather harness and bondage accessories.
2. Last summer we saw a lot of neon. What are the big colors projected for Sprig 2013?
White. It just goes hand and hand with Spring Summer and the feeling of bright, clean, and new. Also very strong, shades of pink from delicate rose to vivid fuschia. Azure blue which is like the color of the sky on a bright, clear day. And finally silver, it is the metallic of the moment.
3. Whose collection of the "tried and true" designers were the best in your opinion?
Jason Wu, Michael Kors, and Proenza Schouler always deliver. I'm a huge fan of each for their completely different aesthetics. Also worth mentioning, Rag & Bone and Alexander Wang-they always get it right!
4. Any new-comers we should be watching on the horizon?
Marissa Webb-the former head designer of J.Crew's womenswear showed her first namesake collection this week. It was a strong start and I'm excited to see more to come; Rachel Comey-she is a fashion must for the cool downtown gal and this season was no exception; and finally Wes Gordon-having only launched his collection 2 years ago, he's already got the stamp of approval from Anna Wintour, Michelle Obama, and young, hip fashionistas everywhere! Spring was a little tougher, a little sexier and totally fabulous.
 5. Last season..the revamped high-top was huge. Do you see that trend continuing?
Yes, it's still continuing in the main-stream mass market. In fact, it's probably stronger than ever there, as everyone from Steve Madden to Skechers now has a version for SS13! I'll be curious to see if Isabel Marant-who brought this trend to the forefront-has it on her SS13 runway. If not what would be replacing that? Pointy toe shoes-whether in pumps, ankle straps, or booties these knife-edge points are the shape for Spring to come.
6. What is a must-have for Spring?
Something skin-barring! Whether you choose to flaunt the arms, the legs, or the midriff, skin is in! My personal must have will be leather a-line mini.
7. What is a lust-have for Spring? (Fall seems to be about fur)
Spring's lust-worthy item would have to be snakeskin. It's rich, it's luxe, it's timeless. And now made paper thin for clothing, it totally works for Spring.
8. A Few Goody Gumdrops wishes to thank you and hope you enjoy reading our blog! Do you????
I get a kick out of AFGG 🙂
XOXO,