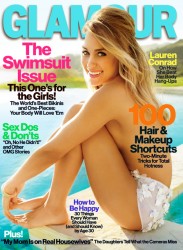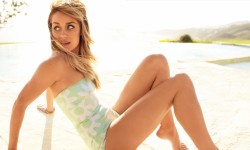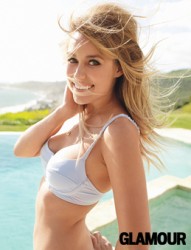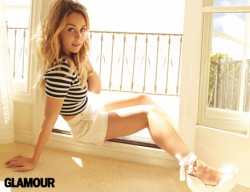 We have the latest scoop on Glamour's May issue featuring Lauren Conrad on the cover. Reality star Lauren Conrad is all grown up and drama-free. That happened through hard work, a sense of humor, and a new perspective on everything she went through. Lauren was photographed by Peggy Sirota in Malibu, CA. Lauren Conrad appears (topless!) on Glamour's cover wearing floral applique briefs by Bluemarine and a gold Tiffany & Co. bangle.  We're sharing a few of the photos inside the issue. LC suns herself in a printed Rochas bodysuit and a gold Tiffany & Co. bangle; she hangs by the pool in a Malia Mills bikini and a gold Tiffany & Co. necklace;  and lastly, Lauren sports a stripped sweater and shorts by Bill Blass and Oscar de la Renta wedges. A Few Goody Gumdrops wishes to thank Glamour for this latest info.
Here's what Lauren shared with Glamour:
On body image…"On the vacation to Cabo, I wore a bathing suit on the beach for the first time in years. Usually I'm just petrified. A couple of years ago someone zoomed in on my cellulite and it was so mean. I took it really personally. I haven't worn a bathing suit in L.A. in years because of that."
On her dating life…"I wish I dated as much as people thought I did! It's really funny because almost everyone that I'm reportedly "dating" is a friend of mine. About half my friends are guys, and I've always gotten along really well with guys. You just have to laugh at it."
What really happened on the reality TV sets…"During shooting, the producers would send us quick text messages telling us what to talk about. They couldn't walk through the shot, so they'd just text me, like, "Say something quick about this story line." That's why we were always checking our phones!"
On her friendships The Hills…
"The show is what brought a lot of us together, and when it was gone, we didn't have anything in common anymore."
On what keeps her grounded…"For me, the best way to stay grounded is to surround myself with friends and family who knew me way back when. There's nothing like cleaning my mom's dishes or taking out the trash to remind me that I'm no different than anyone else."
Thanks to Glamour for giving us permission to reprint this article.Be sure to read Kyle's complete interview with Lauren Conrad in the May issue of Glamour Magazine, on newsstands and available for download on the iPad,  Kindle Fire and Nook on April 10.  
XOXO,