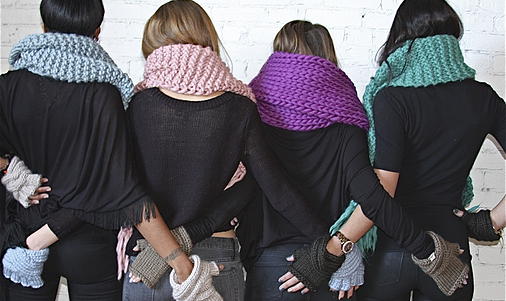 1. When did your first launch The Third Piece?
The Third Piece was formed in August of 2012 when Carina Donoso and Kristen Lambert joined forces to create a winter knit collection. Our official launch was November 15, 2012 with a wildly successful party at Salon Acote on Newbury Street in Boston, Massachusetts.
2. Love your logo! What does the title refer to?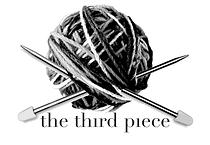 In addition to being our Co-Founder and Creative Director, Carina is a personal stylist with an amazing eye for finding the latest trends and fashion-forward styles. Her philosophy always involves the use of essential accessories. She believes one always looks more polished with an additional layer whether it's a great blazer, statement necklace or knitwear piece. Her motto is "never leave home without three pieces" and hence the name was born!
3. The pieces all seem so comfy and easy to wear. Does your brand have it's own philosophy?
The Third Piece is a lifestyle brand that features hand-made knit pieces in luxurious woolens, beautiful hues and innovative styles. Each piece is made with natural fibers and created with a sense of freedom. Most of our hats are over-sized with "slouch" to add style, comfort and warmth. Some of our larger pieces such as the Hooded Boa, Hooded Infinite, and Boa with Pockets are statement pieces that can be draped casually over a blouse with leggings or worn with a leather jacket or winter coat.
4. What inspired your knitwear accessory collection?
The collection incorporates the personal style of Carina who had a dream to reinvent the craft of hand-knitting combining fashion with an edgy look. Music, film, art and most of all the weather inspire our collection.The winter months often force women and their typically colorful and stylish wardrobes into hibernation. Knit pieces are the perfect way to add color and style into your outfit to beat the cold. That is our goal!
5. Who is the designer behind these ever-so cool chunky knit pieces?
As our Creative Director, Carina designs the collection and pieces. She is continually evolving basic knit pieces through innovative layers, intricate details and enhanced functionality. We have a team based approach as Carina works closely with our Pattern Maker, Paula Roberts who helps fine-tune and craft the pieces knitting along side Carina.
6. How are all the pieces made? How much control do you have over the finished product?
All of our pieces are handmade in Boston allowing us to have complete control over the finished product.The attention to detail and expert craftsmanship make each of these pieces truly unique and so wearable.
7. How many shades do the pieces come in? How did you select these specific colors? Do most of your customers prefer a pop of color or the traditional black, camel and gray?
The Third Piece loves color! For our launch collection we had a wide array of colors and strategically worked to pair the appropriate pieces with the hues we had available. We focus on how the pieces will be styled, determining what would look great with a jacket, blouse, or sweater. For our smaller pieces women tend to be more adventurous in their color selections; while neutrals are often preferred in our larger pieces. We have noted this feedback and have an amazing color lineup for next year that will include brights, beautiful jewel tones and neutrals.
8. The pieces are functional and very stylish. I love the fingerless gloves and mittens. Is that a big seller in New England?
This season we offered two glove/mitten pieces, which we have decided to redesign after receiving feedback  from our clients. We went back to the drawing board and are looking forward to re-launching the updated glove for next season's collection.
9. What is your biggest seller? Do you have plans to add more pieces to the collection?
Our best seller is the Turban, which we have in two versions: the headpiece or a hat. The Turban is that effortlessly chic piece that you throw on and look absolutely fierce while keeping warm! Our Hooded Boa is another favorite that is made with incredible detail and craftsmanship. Next season we're making a few changes to our existing pieces as well as creating online exclusives so stay tuned for those! We have some great new designs in the works.
10. Where do you see yourselves in five years? Would you eventually like to open your own boutique?
In five years we will be a leading designer in the fashion and accessories industry. Our goal is to have our pieces sold in luxury department stores and boutiques everywhere. Beautiful knit pieces will always be our specialty and niche. We hope to expand our brand into an array of products that will bring more attention to the craft of knitting that will inspire our clients.
11. How excited do you get when you see someone wearing one of your pieces?
We are ecstatic when we see someone wearing a Third Piece! It has to be one of the proudest moments a designer can have. We often do a "spotted" feature on our social media sites to show how our clients are wearing their Third Piece around town.
12. Do you have a favorite fashion blog???????????
We love blogs, there are so many out there but the ones at the top of our daily must read list are The Sartorialist, Man Repeller, Cupcakes and Cashmere…and of course A Few Goody Gumdrops!
A Few Goody Gumdrops and The Third Piece will be sponsoring an AMAZING Knitwear GIVEAWAY this week!
XOXO,