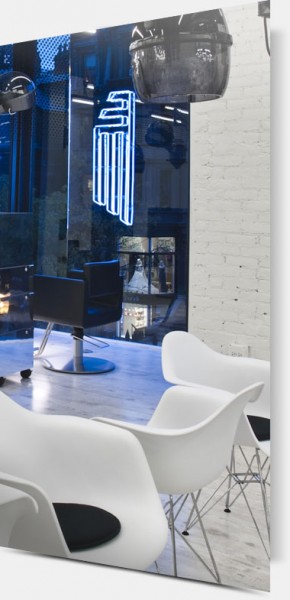 A Few Goody Gumdrops just scooped an interview with one of Boston's most influential hairstylists' Michelle Lee, owner of the very cool Salon Eva Michelle. Michelle is a member of Sebastian's Professional Lead Stylist Design Team and has styled top New York Fashion Week shows for: alice + olivia, Mara Hoffman, William Rast and Betsy Johnson. She continues to shine in Boston's ever-changing beauty industry. Salon Eva Michelle was awarded Best Of Boston 2012,The Boston Phoenix Reader's Pick 2012 and Best of New England 2012. We decided to ask Michelle questions we'd love to know the answers to and get some expert advice!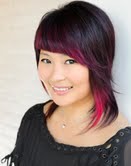 1. I'm always running to NYC for my haircut. I really don't know who to go to in Boston even though I'm from this area. Who would you recommend? Five top hairstylists in the Boston area?
"Boston is a very unique city when it comes to hair salons, especially Newbury Street where there are 60+ salons within an eight block radius. It can be very overwhelming! Looking at publications like Boston Magazine for their Best of Boston is always a good start. My salon partner Eva Mustafai just received the 2012 Best Women's Haircut for the Best of Boston. She is amazing! Our Advanced stylist Jennifer Ng won Best Hairstylist 2012 at the Boston Fashion Awards and our salon, Salon Eva Michelle received best Women's Haircut from The Boston Phoenix 2012."
2. Who are the top colorists? Who would you recommend for blondes?
"I do quite a few blondes, especially double process blondes and my salon partner Eva Mustafai has also won numerous awards in Allure for color."
3. I understand you've been a part of the Sebastian Team for New York Fashion Week. What is that like for you? How do you decide what the hairstyles will be? Who gives you direction?
"As a member of the Sebastian Professional Lead Stylist Design Team I've been given the opportunity to be on the hair team for some of the biggest shows during New York Fashion Week. It's a dream to work backstage and I am so grateful for the opportunities I've had. Each time it is truly an amazing experience. It's everything you imagine it to be; hectic, crazy, cramped, exciting! We always have a team lead and I have had the privilege to work under Thomas Dunkin. He is an amazing stylist with perfect calm energy and inspirational craft. We usually have hair prep the day before the show so we can test the look on live models. This way we are always prepared the day of."
4. When you worked with alice + olivia during fashion week what hairstyle theme did you focus on?
"I actually had the opportunity to work with alice + olivia for three seasons. They've all been very different but the most memorable is the spring 2012 collection. There were about forty models, three different hairstyles and about nine of us artists with only two to three hours to create the hair looks! The day was crazy! The looks for the collection were high buns and side chignons. This past season we worked at the tents for the Mara Hoffman show. We created textured Polynesian hair using a micro crimper, which is a must have for everyone!"
5. Have you worked with any celebs? Of course we want to know who!
"One of our Advanced Designers, Derek Yuen has worked with Kate Hudson, Eliza Dushku, Charlotte Ronson and Kathryn Bigelow. Derek and I have also recently had the opportunity to work with Miss USA, Olivia Culpo. Many years ago I worked with Lisa Loeb and Christine W and more recently designers Chrissie Miller and Sarah Kuhn."
6. In your opinion, what constitutes a good hairstylist? Should they listen to their client or offer suggestions?
"A good stylist is a great listener, asks questions and is honest. I always start off my appointments with a full consultation which includes questions like, 'What do you like about your hair?' and "What don't you like about your hair?' The second part of that is crucial. It's important to know what a client likes and dislikes in order to move forward. It is also important for the stylist to not just say 'yes' to their clients and give them everything they want – that's where we get into trouble. If you know the look is not right and you think you are pleasing the client it can end up being worse. The client leaves unhappy and blames you even though you did exactly what they wanted. You have to be realistic and honest. Communication is key and consultations are a must."
7. What do you think makes a good haircut?
"Definitely the shape. It's the silhouette, the profile, the overall 'Monet' of it all."
8. What hair trends are in for the fall/winter? Is there an emphasis now for heavy bangs? What styles/trends do you expect for spring 2013?
"Richness for fall and winter is always the trend. Colors are more vibrant and true; fixing up the washed out summer hair. Brunettes and red-heads come back too which is always fun. Even pops of color like greens, blues and purples are trending now. Short hair like we're seeing on Anne Hathaway is also a big trend. Yes, she cut it off for Les Miserables, but it's a bold beautiful look like Emma Watson or Carey Mulligan. Fringes are the on-going battle, 'Should I cut them? Should I grow them?' I love a great fringe because it can really shape the face and make a bold statement. In the commercial market fringe is always softer and in fashion it's a bit bolder. For spring I'm seeing golden hues, beige blondes and more stylized hair, including mixed textures, braids and low knots."
9. What sets your salon apart from other salons in the area?
"You always have to have a vision when you become an owner. Our vision is growth. We focus heavily on education and consistent growth in our salon. Our in-house motto is "Room to Grow." Once you feel you've learned it all, find a new profession. At Salon Eva Michelle we are different because we learn from each other and from the outside world everyday. We take classes from different venues and companies and we fuse them together to make it our own. Our staff works well together and will always help each other. That teamwork is key. No one Designer is the star. We have a 5 point star and we all have to contribute to that to make it work. The culture of the salon is so important and we are thankful for a great staff."
A Few Goody Gumdrops was totally inpsired by Michelle Lee and looks forward to booking an appointment in Boston with Michelle for her shaggy cut!
XOXO,