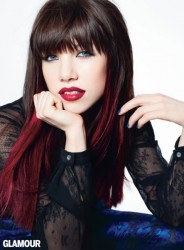 You'll love Glamour's interview with Canadian singing sensation, Carly Rae! We can't stop singing her hit song "Call Me Maybe". Carly Rae's new album will be out later this month and we can't wait! We're sharing her 26 years of life and finding her own fashion and beauty style.
Carly Rae is photographed by Patric Shaw wearing Jason Wu's blouse in her beauty feature in Glamour's October issue, which is available now on newsstands nationwide and digitally. Not only can Carly Rae sing…she is gorgeous, too. A Few Goody Gumdrops wishes to thank Glamour for this fabulous scoop.Click the purple link to read more on glamour.com.
Check out Glamour's Q&A with Carly below:
GLAMOUR: "Call Me Maybe" was the summer song. Were all the imitations flattering?
CARLY RAE JEPSEN: Yes. I remember seeing the YouTube spoof with Justin Bieber, Selena Gomez, and Ashley Tisdale and thinking, That looks a lot like Justin Bieber— oh my gosh, that is him!
GLAMOUR: That line, "Before you came into my life, I missed you so bad," was inspired by your boyfriend, right? How did he come into your life?
CRJ: I was nominated for songwriter of the year in Canada, at the Juno Awards, and I went with my father so he could help me walk down the red carpet in my four-and-a-half-inch heels. At the last second he got stage fright. So my producer offered up his friend Jordi Ashworth to be my arm support while I walked in these crazy shoes. We've been together ever since.
GLAMOUR: You got famous so fast. Do you feel the body pressure that comes with that?
CRJ: My mom taught me how to treat my body with respect, to be grateful I have two arms and two legs. Your health is the most important thing.
GLAMOUR: Describe your style.
CRJ: Pop meets folk. I love combining hippie vintage stuff with chic things. And I can't live without MAC lipstick, especially Lady Danger—it's the perfect red. It dresses you up in two seconds flat.
XOXO,