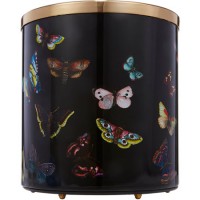 As you know from previous posts we're obsessed with Fornasetti luxury home decor…candles, plates, pillows, vases, and trays. We just stumbled upon
Fornasetti's black aluminum Farfalle waste basket with the multicolored butterfly motif. You may also like the black Pennini Paper Wastebasket 

decorated with fountain pen tips.

(making my mouth water for pasta…Farfalle and Pennini) While I've never had a waste basket of this magnitude…design and price, it's truly an amazing piece. (maybe should be placed in the center of your dining room table) It's so cool as is everything designed by Piero Fornasetti and now his son, Barnaba. The company is now under the direction of Barnaba, who has maintained and expanded his father's line of whimsical designs. Be sure to check out the entire collection. I think the pieces are whimsical although people have often said…" they're weird and err on the side of bizarre". I'm totally intrigued with the look and keep collecting them whenever I can. The plates are interesting conversation pieces that are scattered around my house.
Obviously, this is a holiday splurge for yourself! In my opinion…it's a piece of art in the form of a wastebasket. (no trash allowed inside!!!!) The waste basket features brass tone trim and protective feet at the bottom. It includes a removable plastic tray, so the inside of the actual basket does not get dirty! If you're looking for something unusual and artsy…this would be the piece. We're making shopping so easy. It's just a click away. Grab your coffee and turn on your computer. No crowded stores, no stressed out sale people, no shoving, no lines…you get the picture. If you're ready to indulge, click the turquoise links and start shopping.