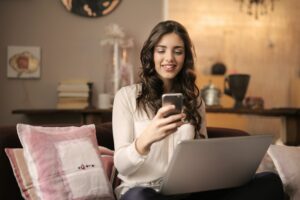 Taking your home to the next tech level has never been easier. Whether you're looking for an upgrade or just want to enhance your current setup, there are plenty of ways to get started.
Here Are Some Ideas On How You Can Take Your Home To The Next Tech Level:
1. Invest in Smart Security.
With smart security systems, this allows you to keep an eye on your home even when you're away. These systems usually come with features such as motion sensors and cameras to give you a comprehensive view of what's happening around your home. Some systems even allow you to set up custom alerts to be sent directly to your phone whenever they detect movement.
2. Get Creative with Smart Lighting.
With the right equipment, you're able to create custom lighting solutions for your household that allows you to control the brightness and color of each room from anywhere in the world! This is perfect for setting the mood during parties or just ensuring that everything looks great when your guests arrive for dinner. You're able to use these lights to set up automated lighting sequences that turn on and off on a schedule, saving energy in the process.
3. Go Wireless with Home Audio.
You don't have to stick with traditional wired audio solutions anymore – there are now plenty of wireless options that let you control music from any room in the house. With modern systems, you're able to stream music from online services like Spotify or Pandora, as well as play stored tunes from your device library or other sources like USB sticks and SD cards. What's more, these systems usually come with their own apps, so it's  easy to make changes without ever having to leave the comfort of your sofa!
4. Install a Smart Thermostat. 
Smart thermostats are a great way to save energy in your home, as they enable you to set up schedules that automatically adjust the temperature according to the time of day or night. They come with features such as geofencing, which can detect when you're away from home and turn down the heating or air-conditioning accordingly. Plus, many of these systems have voice control capabilities, so you don't have to get up off the couch! 
5. Make Your Home Smarter with Automation. 
With Smart Home Tech, you're able to take your home's technology level up a notch by automating all sorts of tasks around the house. For example, these systems allow you to use commands like "turn on the lights" or "set the temperature to 68 degrees." You can use them to control your appliances, set up automated reminders, and even check in on your home while you're away. The possibilities are truly endless! 
In Closing
No matter what level of tech you want in your home, there are plenty of options to take it to the next level with just a few simple upgrades and investments. From smart security systems and wireless audio solutions to automated lighting and thermostats, these 5 tips will help make your house more comfortable, efficient, and secure than ever before. So go ahead – get started today and let technology work for you!