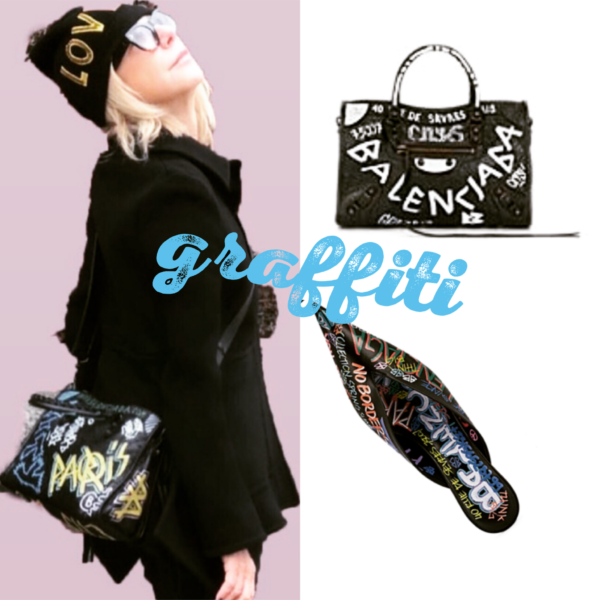 Cut to the Chase With Knife Shoes
From Balenciaga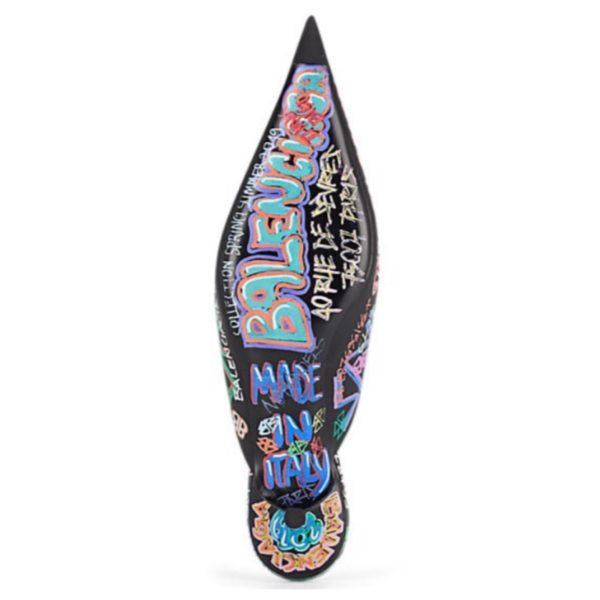 Everything old is new again. That is how fashion works, doesn't it? After a digression into chunky heels and platform silhouettes, the dainty –like the kitten heel – come purring back into fashion. Although I love the shoes and own a pair however the name is a deterrent. There are so many edgy names that describe these shoes. Maybe it's just Balenciaga being Balenciaga. Whatever look they show I'm on it!
Balenciaga takes the kitten heel and combines it with other on trend facets, like the mule, to make it a coveted fashion item. This particular pair, however, has an interesting twist (or should we say point?) – it features a front so sharp that the fashion house actually calls it a knife shoe. The graffiti mule as seen above is particularly cool. The graffiti art is also on the inside and sole of the shoe with messages such as No Borders". The shoes would look great framed in a plexiglass box.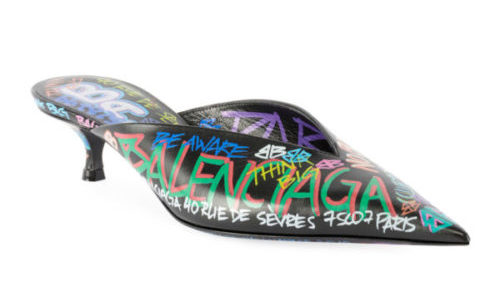 What's your take? Would you buy a pair? There are so many choices you can pair with….jeans, skirts, shorts and cocktail dresses. Wore them last night with white denim jeans. They looked great and they are beyond comfortable which initially seemed strange to me. Ready to invest in a pair?

Available in a variety of candy-coated hues, the product page greets you like a confection. Cotton candy pink, lemon drop yellow, and deep cerulean all create satin-wrapped points that are almost cowboy boot like in the presentation. But don't try to take these cattle rustling or square dancing at the local watering hole. Balenciaga's works of art are better for the Met Gala, drinks at an uptown spot, or matched with a pair of Jacquard cigarette pants and bolero.

The Balenciaga Knife Shoes in black patent leather and the denim mules feature the Balenciaga's logo initials BB, possibly after Betsy Brown?!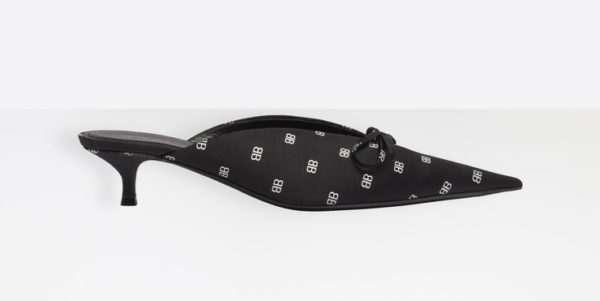 Balenciaga's knife shoes come in a variety of styles and colors to meet your perfect aesthetic. How will you wear them this season? Or is this one trend that you want to see go away? Let us know!