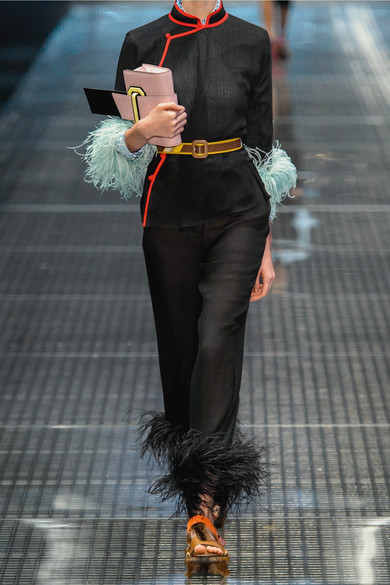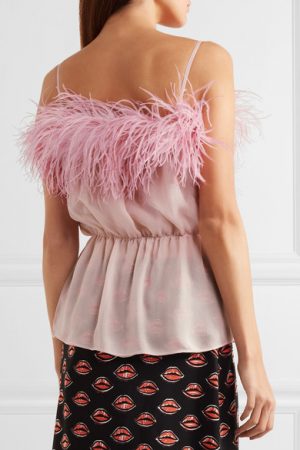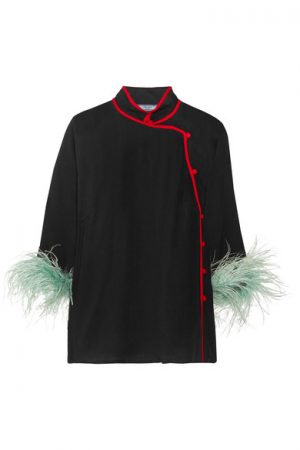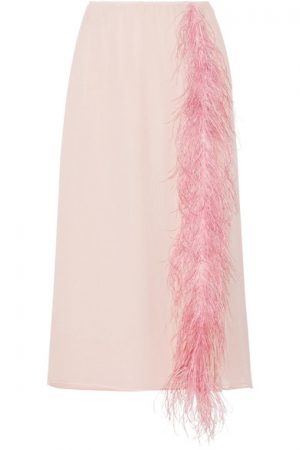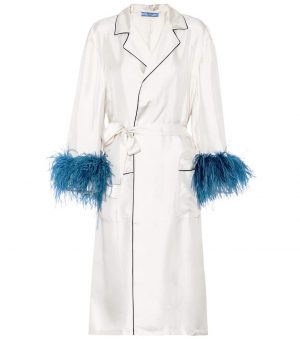 Take a look at the spring and summer lookbooks, and you'll see a lot of things in common. Crisp white accents a sultry summer tan. Leisure and resort wear reign supreme. Madras finds its way off golf shorts and onto espadrilles. When a fashion powerhouse like Prada takes us out of the summer routine and into the unexpected, we sit up and take notice. If you're looking for a new twist on spring and summer's airy stylings, consider this.
The Feather in Your Cap
Or more appropriately, your sleeves. Feathers add an air of sophistication while communicating lightheartedness. This feather trimmed camisole is perfect for anyone who has ever lusted after Carrie Bradshaw's wardrobe. To keep the look fresh, not kitsch, Prada paired the camisole with a weighted plaid skirt and chunky sandals on the runway. We think balance is key – paired with other ethereal accents like tulle, your style might appear less treschic and more Swan Lake extra. Prada's feather-trimmed silk Georgette pants are off the charts. Prada's feather-trimmed silk Georgette midi skirt is a must-have for fall along with Prada's silk chiffon feather trimmed blouse.
A Nod to Eastern Styling
Prada also unveiled the kimono style top with feather trim on its spring runway. The mint feathers, juxtaposed with the red and black shirt, create a versatile look that professional enough for the office, but fun enough to hit happy hour. Click the purple links to indulge. Shop This Seasons Coveted Fashion Goodies! Every outfit including jeans needs a pair of feather trimmed mules in black, white feather-trimmed satin mules or pink feather-trimmed satin flats. Last but not least a white silk feather trimmed robe.