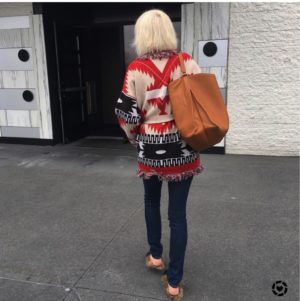 Nothing compares to the coziness of wearing your favorite pair of stylish slippers. If you hate exchanging your slippers for shoes when you leave the house, don't worry — these styles from Balenciaga are trendy enough to serve both purposes. Wear them when you want to feel fancy at home or comfy in public. These must-have shoes will take you everywhere. Definitely a fashionista's dream.
Balenciaga Furry Slide Sandal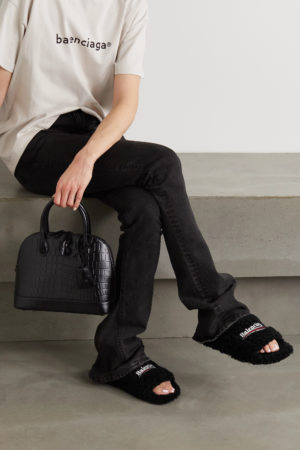 Black faux shearling will make your feet feel pampered when you wear these sandals, which draw on the popular slide style to provide accessible footwear. These can be paired with Balenciaga's fluffy backpacks for a cohesive, comfy look that you'll love to show off in casual settings. We love pairing the shoes with the edgy bright yellow backpack. The slippers are also available in red.
Balenciaga Furry 80mm Sandal

These bright red Balenciaga sandals are delightfully fuzzy. Their 80mm arch takes them above and beyond conventional slipper style, however, as do their intricately embroidered logos. Other highlights include tone-on-tone soles and black outsoles. They're a great fit for any ensemble that includes Balenciaga's hourglass faux shearling top handle bag.
Gucci Mules
The very first pair of furry fur-lined slippers/shoes were the Gucci mules!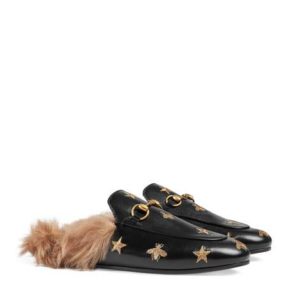 So comfy and love the dual-action. When I first wore them I felt like a jerk. I truly looked like I was wearing fancy slippers out of the house. They were comfy and I loved the look. They became a look unto their own. I wear nothing but furry slides that I leave by my bed. I had them re-soled so I could keep wearing them. We know you'll love the luxurious warm furry fabulousness all year round.
Click any of the links to shop for these luxury styles and fancy slippers. Your feet will THANK YOU!!!!!!!
XOXO,