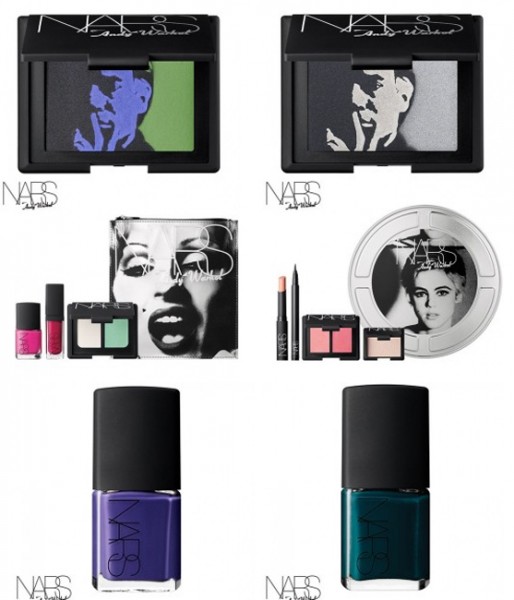 We're so excited to bring you this amazing collection from Nars. Nars is paying tribute to one of our very favorite artist's….Andy Warhol. He's truly one of the most iconic pop artists in modern history. We proudly have his "Self Portrait" with the "Diamond Dust" hanging in our family room. This series included Mickey Mouse, Aunt Jemima and The Wicked Witch…just to name a few.
This is a limited-edition collection from Nars that's available to you right now. "From the Beautiful Darling and Edie sets to the Self Portrait palettes, NARS has all the Limited Edition products". Many of the cases are adorned with Warhol's "Self Portrait". We are featuring a grouping of this spectacular collection. Be sure to click the black Nars logo banner and view the limited-edition collection in it's entirety.
The eye-shadows seen above are the: Self Portrait 1 which is a collection of black, bright periwinkle blue, and vibrant green shadows. The Self Portrait 2 is a collection of black, white and silver shadows.
"The ultimate blond bombshell and Andy Warhol's greatest actress, Candy Darling thought beauty was a duty, and worked harder at it than anyone. NARS commemorates Candy's legendary look with a silver deluxe cosmetics bag filled with tools for making your mark and doing your beauty duty".
The Set Includes:
NEW Candy Darling Mini Nail Polish in electric pink
NEW Femme Fatale Duo Eyeshadow in sheer white shimmer and fresh mint green
NEW Woman in Revolt Mini Larger Than Life Lip Gloss in hot pink
The Marilyn Monroe small cosmetics bag. Oo-la-la!
"Exploding on the scene like a comet, Edie Sedgwick was the quintessential sixties 'It Girl' and Andy Warhol's most memorable muse". This collection is featured in an authentic 16mm film canister as "NARS celebrates Sedgwick's iconic style with superstar essentials".
This Set Includes:
NEW Film Star Pure Matte Lipstick….60s nude pink
Edie Eyeshadow in cream with a little bit of shimmer
Carpates Eyeliner Style in black
Mini Blush Duo in Deep Throat and Amour in sheer peach and peachy pink
We're loving the purple polish, affectionately called, The New York Dolls and the teal color called Superstar. The polishes from this limited-edition collection called have been "named for the gritty, glamorous and famously androgynous pre-punk garage band that formed in 1972". We know you'll love these five bright must-have colors! Nars polishes are long lasting and we're told "chip-resistant". We can't wait to click the little black logo banner and start shopping this entire collection! Oo-lah-lah!!!!!!!