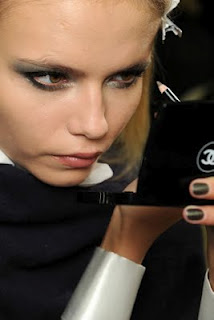 We've got the scoop on the latest Chanel nail colors for Fall 2011 and they're gorgeous. Our favorite and pictured is Chanel's Le Vernis Nail Colour in Graphite! Its a mix of pewter, green and gold with tons of shimmer and shine. Here's what our guest blogger has to say!

Another day, another guest post on my part about Chanel nail polish. I can't help it. I'm addicted to the extravagance of paying $25 for a tiny bottle of colored paint that I'll keep on my nails for a day and then remove twenty-four hours later in order to make way for another color of polish.
What made this particular post all the more irresistible was that it's the first time most of us are seeing these new colors from Chanel's Fall 2011 nail polish collection. The hot new shades are metallic/mineral-inspired colors called Graphite, Quartz and Peridot. This new trend will be part of Chanel's limited edition collection.
For the record, I'm absolutely dying over these colors. My nails will not feel complete until they can be painted in this gold/metallic/earthy-toned loveliness. A Few Goody Gumdrops wishes to thank Alessia from Luello.com for this post. Luello carries luxury apparel from brands such as William Rast and J Brand. Click the green link to indulge! Shop the best designer names in Beauty, Skincare and Fragrance at Bloomingdales.com!
XOXO,