What better way to start summer than polka dots?! Guest blogger, Sarah Ballard from The Fashionable Housewife is featured above in a glamorous polka dot shirt that looks great with all that gold. There are so many ways to wear the polka dot trend, but classic white and black polka dots will always be our favorite.
The Polka Dot Trend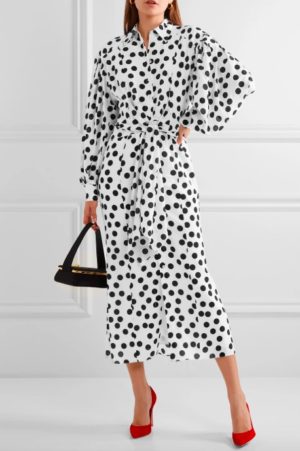 Lady-like with heels, streetwise with boots, or boho with flip flops, this Herrera polka dot shirtdress can do it all, and do it with Kate Middleton style! The spread collar and button front polka dot blouse are all business and the tie waist is casually cool. Pair this dress with red heels for a look that can't be beat.
Polka Dots on Top
Sitting pretty in this pleated polka dot blouse will lift your spirits too! Wear it with jeans for a casual weekend look or pair with white slacks for a date night or drinks with the girls.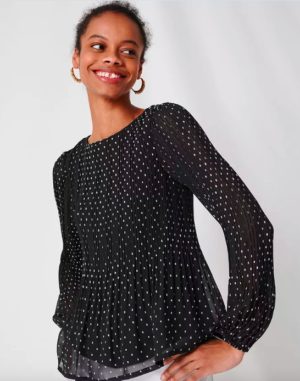 Better still, try this darling Tory Burch voile dress with a hem that hits just below the knee, a sweet spot that's long enough to wear to work, but short enough to show off those calves you've been working so hard to earn – particularly with that ruffled, tiered skirt.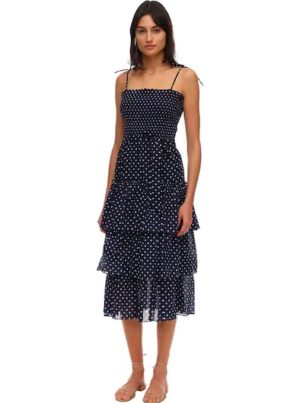 Polka Dots From Head To Toe
If a whole dress of polka dots is too much for you, try the polka dot trend from head to toe with these gorgeous polka dot headbands, stylish hats, or these darling Manolo Blahnik mule pumps.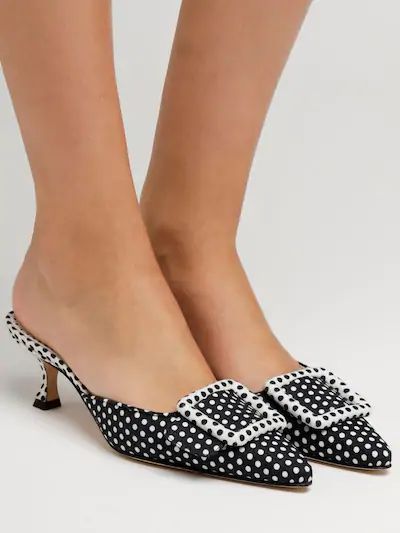 In cultures, like the Philippines and Singapore, wearing polka dots is thought to bring wealth and good luck – with the polished perfection of a dress like this Antonia polka dot off the shoulder dress, luck is bound to find you!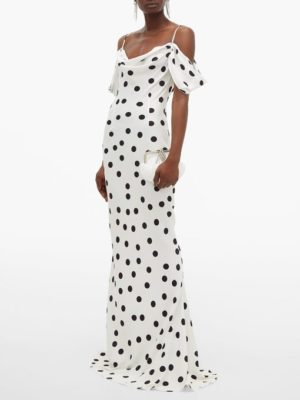 If you're ready to try the polka dot trend, click on the links or images to shop these pretty polka dots. I don't know about you, but we've been stuck inside long enough and deserve some summer fashion!
Here are a few more polka dots to crush on…
XOXO,