Not since Michael Jackson's peak have zippers been so on-trend. Don't get me wrong, zippers have always been a way for designers to incorporate style and functionality. You've got to get into those pants somehow, amirite? But it seems like for the past decade or so, designers forgot that zippers are more than just an expressway for getting into and out of clothes. 
The Zipper Trend on Denim:
These light-washed cult zip jeans from Alexander Wang look fairly typical from the front. But the surprise comes when you leave—and leave anyone looking gaping at the truly original rear-zip detailing.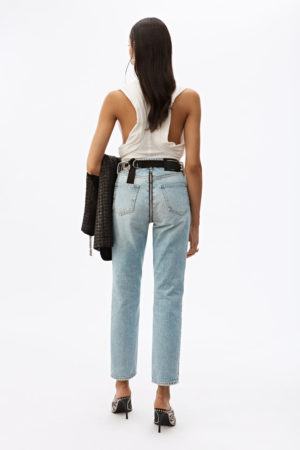 On Leather
Fabulous, low-heeled, black leather zipper boots from Marissa add moto-style to black skinnies or leggings or toughen up an outfit that needs extra oomph. In case you're wondering, they open with a simple side zip.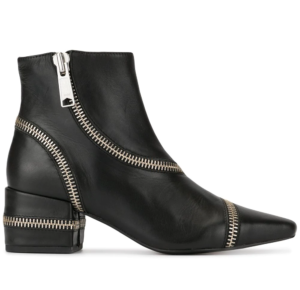 On Tweed:

This is not your grandmother's tweed, or maybe it is? I guess it depends on your grandma. Alexander Wang offset the stuffy traditional formality of tweed by featuring the zipper trend up and around the waist of this very modern zipper detail tweed minidress—a look you can wear to work all day then straight out for drinks at night.
On Jewelry:

As if zipper earrings weren't eye-catching enough, Marc Jacobs made these in a long-short style, with one earring in the silver-toned pair featuring only the zipper and the other with the zipper and the teeth. From either side, these Marc Jacobs zipper earrings will make your outfit.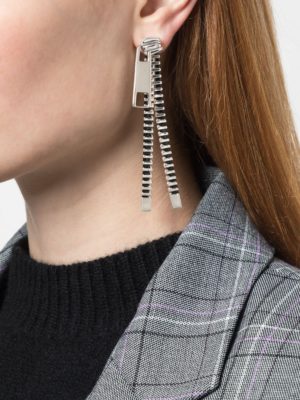 More Zipper Trend Favorites:
Seven waist-nipping, flattering zippers in a sunburst pattern draw the eyes into this stunning Alexander Wang mini-dress, swooping around the waist like a sunrise, but it's the one hidden zipper in the back that lets you shimmy into this dramatic dress.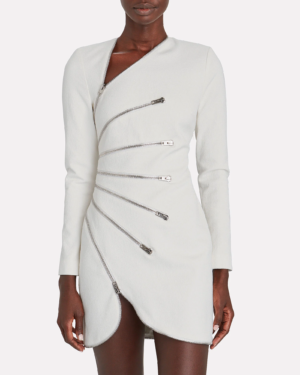 We're loving the zipper trend and its details and know you will too! Click any of the links to shop Zippers!!! Stay stylish and shop my zippered look!


Shop the Zipper Trend:

Loving this zipper trend feature? Click here now for more Spring Trends!
XOXO,