A Few Goody Gumdrops thoroughly enjoyed participating in the second T.J. Maxx Summer Self-Expression Style Challenge. Naturally, we enlisted the help of Sarah-Jean Ballard, our fashionably stylish friend from The Fashionable Housewife to help pull this off. If you recall, we recently partnered with Sarah-Jean and T.J. Maxx, your favorite off price retailer to take part in The Maxx Style Scout Blogger Challenge earlier this year.
T.J. Maxx provides their shoppers with endless possibilities to express their personal style. Sarah-Jean and I decided to express our personal style with one of this season's hottest trends….metallics! We specifically decided to work with gold metallic for this challenge. T.J. Maxx carries the hottest on-trend, brand name and designer fashions. Sarah-Jean and I had no trouble selecting some fabulous pieces to fulfill our challenge. Not only did we find some absolutely perfect metallic pieces for Sarah…she complimented the look with gold nail polish, shimmering gold eye shadow and gold lipstick. As you can see Sarah-Jean rocked the metallic look like a true fashion model! Sarah's ultra-trendy metallic look is perfect for day or night.
We were thrilled to be part of T.J. Maxx's Summer Self-Expression Style Challenge and always have a fabulous time selecting the pieces and presenting our fashion statement.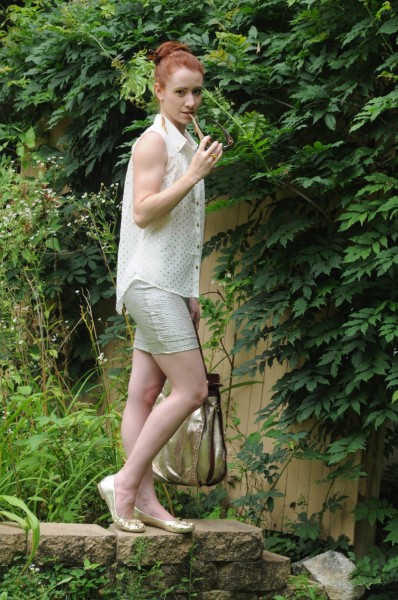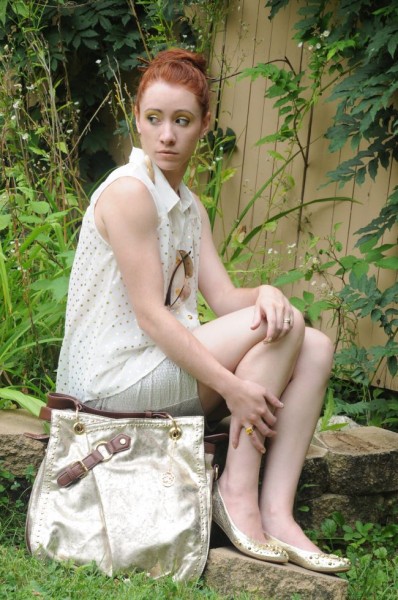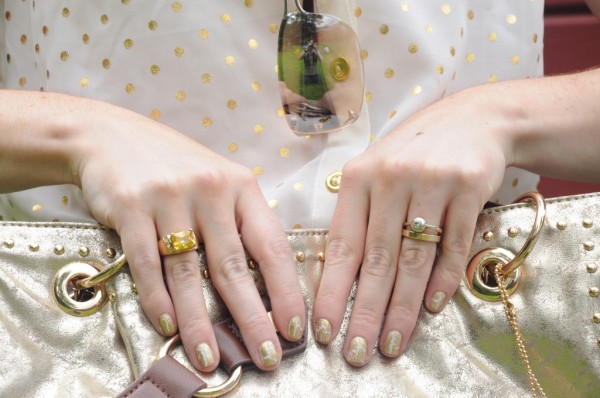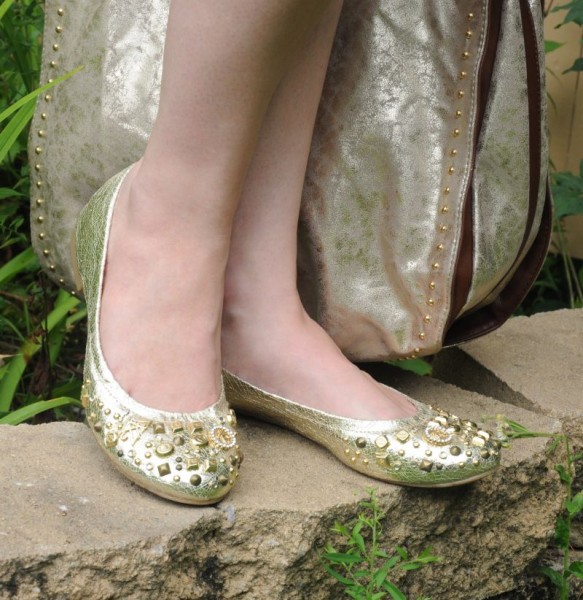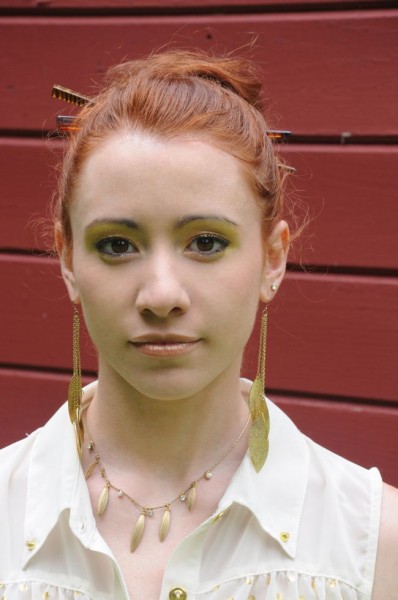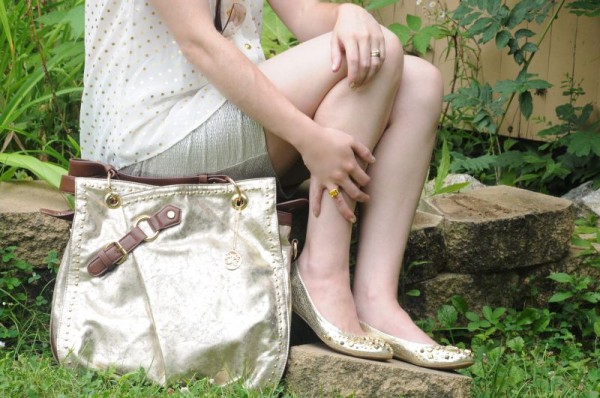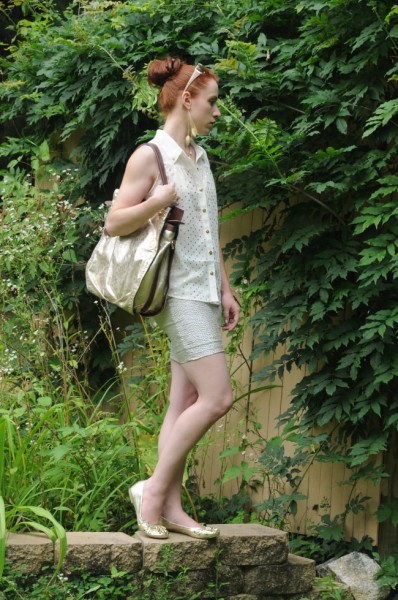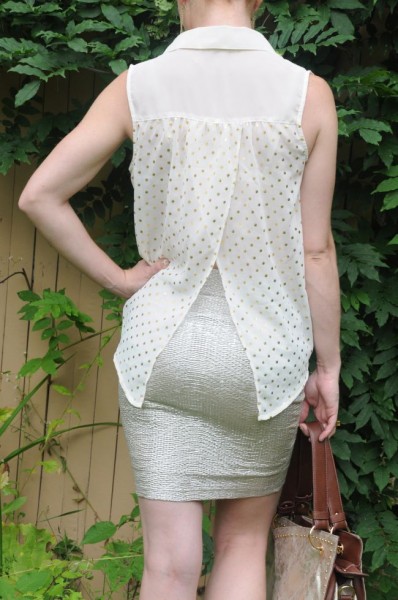 What we got for $100…
Top: on sale for $10
Skirt: on sale for $7
Shoes: $20
Handbag: on sale for $32
Necklace: $20
Sunglasses: on sale for $10
Tid bits from Sarah:
I went to two different T.J. Maxx stores in order to put together this entire outfit. The selection at each store varied slightly, especially when it came to the clearance rack, so always check out all the T.J. Maxx stores in your area if you are looking for something specific. What you don't find at one, you might find at another!

T.J. Maxx is one of my favorite stores for clothing and accessories because I can get so much of what's in style right now for much less than department store prices. The more I save, the more I can buy! I was able to get an entire outfit, complete with the accessories all for under $100.
Tid bits from Betsy:
A Few Goody Gumdrops wishes to thank T.J. Maxx for this incredible opportunity. T.J. Maxx is dedicated to making fashion trends fun and affordable. Sarah's metallic ensemble is proof of that! Sarah's gold toned make-up really brightened up her look and completed her stylish outfit. We especially loved the gold ballets flats embellished with stones and studs. Her gold skirt really accentuated her figure from every angle. The gold handbag with the dark brown leather trim makes this a perfect piece for fall.

T.J Maxx provided AFGG with a $100 gift card to complete this challenge and post the stylish outfit we chose on both AFGG and TFH. All the opinions expressed here are from Betsy Brown, editor of AFGG and Sarah-Jean Ballard, editor of TFH.

T.J Maxx provides you with more possibilities to express your personal style. The combination of quality, designer brands and value enable you to express yourself through fashion. At T.J. Maxx you'll find sought-after brand and designer fashions at unbelievable prices.
XOXO,