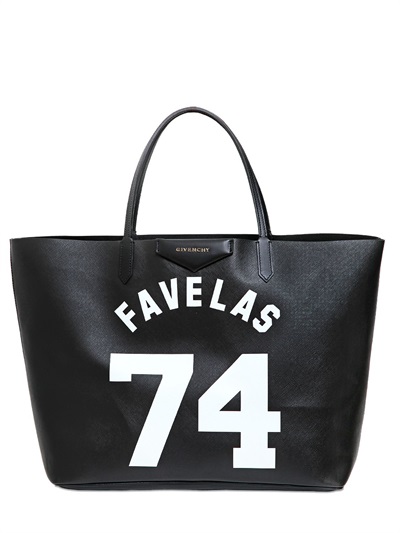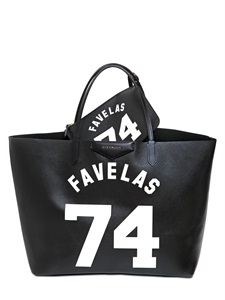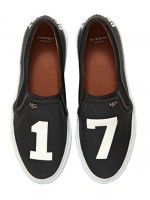 Give me a tote over a handbag any day of the week. While I love so many of the spectacular handbags out there…I'm more comfortable carrying a lightweight tote. Maybe it's age related??? I'm totally obsessed with the Givenchy Tote, Favelas 74.
GIVENCHY TOTE OBSESSED
The best is…I can shove so many things in a tote and it's still so easy to carry. I have Goyard Totes lined up in my closet and I'm really beginning to tire of them. So excited to pre-order this latest and very cool Large Antigona Canvas Coated Tote with the matching inside pouch from Givenchy. How cool are these slip-on leather  sneakers to wear with skinny jeans and the Favelas 74 Givenchy tote.
Click the link to indulge in this funky Givenchy tote with the signature logo and Pervert 17 Leather Slip On Sneakers. What a combo!!!! In my eyes Givenchy can do know wrong……every accessory is the best except that ferocious looking Rottweiler Tote.
What is Favelas 74 all about? 1974 is the designer, Riccardo Tisci's birthdate and "Favela" is the Portuguese name for a slum in Brazil. "Men in Favelas are more natural and confident about their sexuality". Tisci states, "They are not scared to mix and match clothing. They represent sensuality, street, and elegance—what I recognise as elegance. I love the fact that they play with opposite things like flowers (which represent peace and serenity) and camouflage (which represents the army), but all interpreted in a very colourful and positive way."
What about you? Which Givenchy tote would you invest in?
Loved this Givenchy Tote feature? Click here now for more designer handbags!