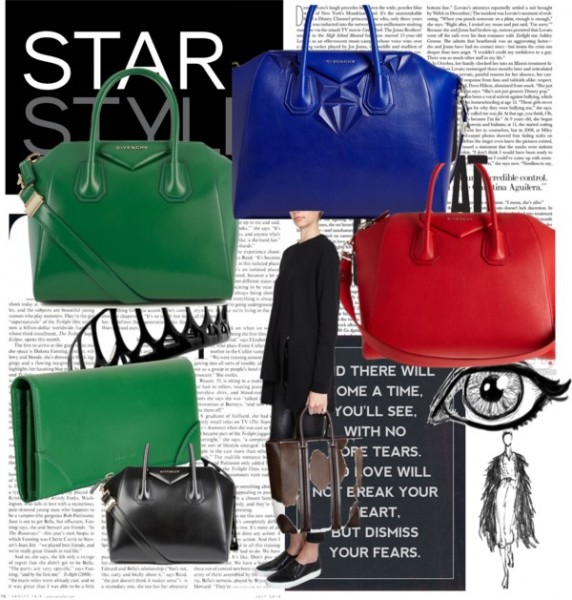 Givenchy's Nightingale has been one of our favorite's over the past few years. The more you carry the sacky bag…the better it looks. The Nightingale is still at the top of our list but we're giving it a passive shove to make way for the double top handle Antigona Bag in the structured leather. This luxurious leather bag comes in gorgeous vibrant hues like red, emerald , cobalt and aubergine. (not shown)
The bold colors make way for a huge pop of color next season! Naturally, we still adore black but it's fun to have a personable color….once in awhile.  I love the cobalt but you must check out the Antigona Cow Printed Ponyskin Bag when clicking the links. To-Die-For!!!!!! The Antigona has a stylish shape, comes in three sizes and is perfect for daytime or evening.
This classically chic bag will compliment Givenchy's Paneled Light Wool Trousers, the Plonge Nappa Leather Dress, the Nappa & Lama Wool Felt Coat, the Leather Fit Skinny Trousers and so much more! Honestly, the bag will compliment almost anything in your wardobe. Click the emerald and cobalt links to indulge! Givenchy clothing, shoes and bags are amazing this season!