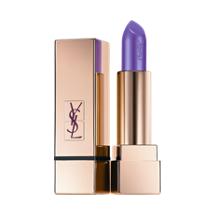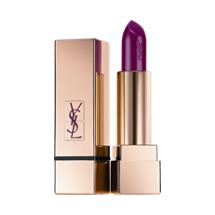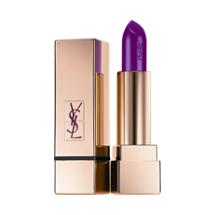 Totally obsessed with this intense couture lipstick collection inspired by Monsieur Saint Laurent's "iconic color palette—red, fuchsia and orange—customize your look with luminous red". Three fashion-forward shades to adorn your lips with a dramatic look.

Years ago I wore a frosted purple shade called Breezy from Ultima. The color was gorgeous but eventually went out of style and I lost touch with the lipstick and the company. I'm beyond excited these colors are making a comeback especially the real purpley one. Although these are not your average colors….YSL is not your average makeup. YSL has always been in a class of its own…ahead of the curve…tres-chic.

"The lips are saturated with intense, stay-true color, thanks to the Coloreveal Technology while natural extracts provide comforting moisture that lasts all day". Isn't that exactly what you love in a lipstick? Bright lipsticks are definitely the current trend as seen in the tenth edition (12/15/2014) of New York Magazine featuring six women wearing intense color lipsticks.

These intense colors may take some getting used to. We suggest applying the color to your lips, blotting your lips and then applying a clear gloss for a radiant shine. Click the purple links to pre-order and indulge YSL Rouge Pur Couture–Luminous Mauve and Luminous Red and Luminous Pink. Drool-worthy or not? You decide!