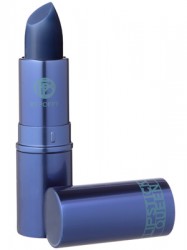 Our friend, Ehmonie from the ever-so hip blog What's Haute has shared another hauntingly stylish lip color with us. A few months ago she introduced us to grey lipstick. While it looked great on the models it was bleak and ghoulish looking in person. Are you ready for this season's hot new trend??? Ehmonie is now introducing us to blue lipstick. That's right….blue lipstick! I guess if we can have blue hair, blue nails, blue eyeshadow, the blue's…why not blue lips?
Lipstick Queen recently debuted a new, blue shade, "Hello Sailor" – a sheer navy lipstick that "promises to make your teeth look whiter and your complexion brighter". I'm obsessed with blue nails but not sure about blue lips. Has that "stylish" freezzzing cold, teeth chattering look.
We did love Poppy Queen's black lipstick and matching sinner shine gloss. Chances are this maybe be a favorite, too. The blue lipstick actually appears as a berry color. Remember the black appeared as a dark mauve? If you're ready for something new….try blue! It ok to be "blue" as we keep shopping the latest goodies for you….no matter how bizarre! I wonder what color Ehmonie will be introducing us to next!