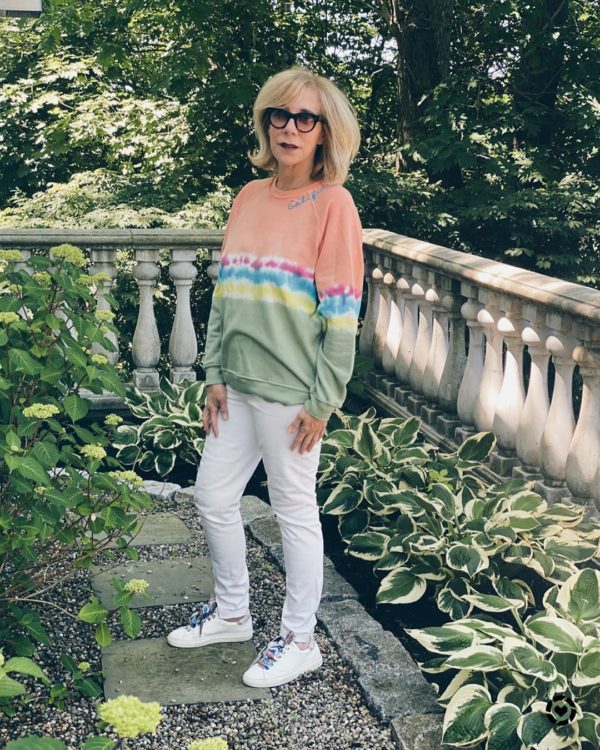 If you are currently staying at home for a while, or are working from home for the first time, you may be struggling with finding a style balance somewhere between having a dressed to the nines day and keeping it super cozy & relaxed.
We recommend a delicate balance between chic and comfy to help you feel put together, yet cozy enough to easily mix in a midday nap. Here are our 7 best tips to amp up your stay at home style!
1. Don't PJ-all-day
While it may be tempting to keep it to pajamas all day when you are first staying at home for a while, you may end up feeling a little blah and miss having more structure to your day.
We recommend setting your alarm to the same time every morning, waking up with a steamy shower, and then popping into something comfortable (yet definitely not sleepwear.)
If you are sticking to a daily yoga routine, or plan on hopping on your treadmill during the day, keep it sporty yet trendy with sneakers, yoga pants, a workout top, and a cute strappy sports bra. You will feel put together and efficient since you can hop into your workout at a moment's notice.
Or, maybe you just want to feel more put together while working on those reports for work. Slip into a comfortable but chic romper, jumpsuit, or breezy skirt with a cozy sweater for a look that is casual Friday worthy, while still making comfy a priority.
2. Experiment with chic heat-free hairstyles
If you are really looking to increase your stay at home style, use this as an opportunity to give your hair a heat holiday.
If the curling wand or hair blowers are used to be your daily go-to styling tool, your hair is likely way overdue for you figuring out some cute heat-free styles.
Try out some braids, top knots, classic ponytails, or get fancy and figure out how to do your own air-dry twist waves and curls for some volume without a blowdryer.
3. Apply a face mask on the regular
If you are being more of a homebody right now, you have no excuse to not make sure your skin is getting top-notch treatment. Just because you are stuck inside doesn't mean you need to compromise your stay at home style.
Go for a sheet mask, charcoal or clay mask a few times a week to get an effortless look sans makeup.
Turn off your laptop camera and pop one on during your business meeting to get work done while secretly pampering.
4. Take your skin routine up a notch
Staying at home isn't just a great time to treat your skin more during the day, but you will likely have more time available for your morning and night skin routine as well.
Slapping on your usual basic moisturizer twice a day is a good start, but if you want a night and day cream that really puts in the work, look into high-quality pharmaceutical-grade beauty creams with validated ingredients like brightening vitamin C and fine-line busting Tretinoin. Leven up your stay at home style by revamping your skin care routine.
5. Keep your nails painted a fun color
You are likely catching a look at your nails a lot during the day if you are now working from home, so why not make them pop? This is a great way to get some stay at home style without a lot of effort.
Keeping your nails trimmed, filed, and nicely painted is a quick and easy way to feel fancy and put-together.
Keep it a simple clear coat or pale pink for a classic look, or shake things up a little bit and go for a neon yellow, chartreuse, or interesting pattern to put a little pep into your at-home day.
6. Go for a barely-there makeup look
If you are going to be hanging out at home for a bit, you may want to give your skin a break and try out a fresh and clean barely-there makeup look. It's the perfect way to give your face that stay at home style without going crazy.
If you normally go for an all-out contour, smoky eye, and fake lashes look, your skin may be craving a bit of a breather.
You may not want to go completely sans make-up every day, so try out some simple light makeup looks to help you feel pretty and put-together while staying in.
A lightweight concealer, pale pink glossy lip, and a swipe of mascara can work wonders for having that pretty effortless look without spending too much time in front of the mirror.
7. Invest in some luxe nightwear
Outfit changes from day-to-night are a great way to divide up the monotony of staying in the same place for so long and can help you mentally switch from work time to relax time.
Since you are already going about your day in comfy leggings or rompers, you can really amp up the luxe fabrics with your nightwear to emphasize the difference.
Dig out your silky nightgowns, plush slippers, and fuzzy robes to glam it up with this stay at home style!
Conclusion
Staying at home more doesn't mean that all of your fashion sense has to go out the window. After all, your clothing choices are for you to feel and look your best, so you don't really need an audience to take the time to love your look that day. Put the emphasis on cozy styles to make sure you are staying comfortable while still looking great.
Use some of your extra spare time to give your hair and skin some extra care for that effortless stay at home style and chic look without having to reach for a bronzer or blowdryer.