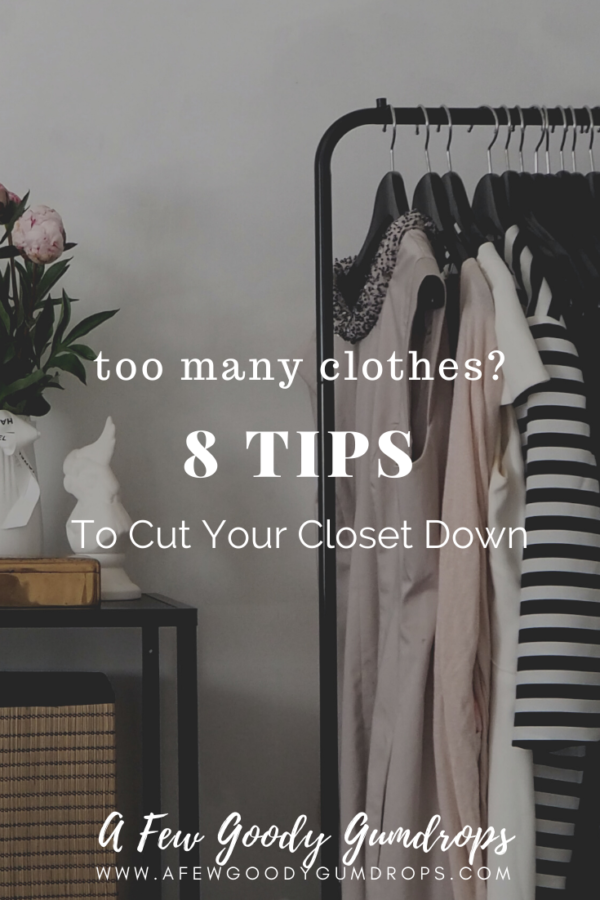 If you are someone who loves clothes and loves to shop, it's almost a certainty that your closet is full of too many clothes that you have bought, never worn, and forgotten about. This isn't something new, it has undoubtedly happened for years, but at some point, it becomes overwhelming, and you find yourself panicking over how much stuff you have. At one point, you may have believed that you needed all of these clothes, but now, you may understand the opposite.
To help you deal with having too many clothes, here are 8 tips for cutting your closet down. 
Start Simple 
No one expects you to start throwing clothes out quickly, so don't be afraid to start simple. The best way to do this is to find any item of clothing that is past it's best days. This includes clothes with tears, stains, or anything you look at and wonder how much you'd had to drink before buying it. 
It can feel bittersweet to throw these clothes out, but if some of them are still in relatively good condition, you can donate them to local shelters and thrift stores. With this, at least you can give them a new home for people who might need them more than you do.  This is the best way to solve your problem of too many clothes.
Ditch the Seasons
Seasonal wear is useful for plenty of reasons. It helps you stay toasty during the winter, and it keeps you fresh and breezy once the temperature rises. But this seasonal wear can also clog up a lot of your closet space, especially the bulky winter jackets and boots. 
You don't necessarily need to get rid of these items, as you will need them again eventually, but if you have spare space in other parts of the house, then consider keeping them there until the seasons demand you bring them back out again. Conversely, you can look at any clothes you haven't worn and donate those, too. It's nice to have some variety, but you don't always need it. "Variety" isn't a good reason to have too many clothes.
Keep Only Essential Accessories
Accessories can make or break an outfit, but do you need to have an accessory for every day of the year? No. Keeping only the essential accessories will help you clear out your cluttered closet with more confidence so you won't have too many clothes. 
This could even be the chance for you to find more info on what accessories are the best for you. If you feel like you need a change and want to switch up your accessory game, you can speak with experts who know the best way to make your accessories stand out and match with any outfit that you own. 
Do They Even Fit? 
You certainly have too many clothes that you haven't worn in years, potentially as far back as when you were a teenager. While these clothes hold a special place in your heart, they also may not fit you anymore. Even if you are in between sizes, some clothes may have shrunk or stretched, so you don't need them anymore. 
There may even be clothes you have bought but never worn, never fit you, or didn't look as flattering as you hoped they would. Take these out, throw them in a bag, and donate them. You may be surprised at how many clothes you have been keeping just in case. 
One Could Be Enough
Whether it's a little black dress or a cozy sweater, you don't always need multiple types of each item. It's good to have some variety, but if you're serious about cutting down the clutter in your closet because you have too many clothes, you can start by getting rid of clothes that are too similar. 
Doing so will mean that you have a closet full of things that you love, rather than merely like or tolerate. For many people, they have a single favorite type that they wear all the time. If this sounds familiar, add the duplicates to the Not Needed pile. You'll get more use from what you keep and also eliminate the uncertainty you have about which one to wear whenever the occasion demands it.
Forget About Current Trends 
The fashion industry loves to tell us that we need to buy things that we don't need. There are likely plenty of clothes in your closet that were in vogue, but now you look at them, you wonder why they were ever popular. 
Kicking supposed current trends to the curb and relying on your judgment for what looks good, while also following your personal style, is sure to get rid of too many clothes that you may have worn over an enjoyable summer, but are now something that is neither in style nor very you at all.  
Combine Different Outfits 
If you've gotten rid of lots of clothes already, you might start worrying that you don't have enough to get you through the year without repeating outfits far too often. While you may need to wear the same clothes regularly, you don't need to wear the same outfit. 
Combining outfits and experimenting with different combinations can give you some incredible variety for your wardrobe. If you're creative enough, you will find that having too many clothes actually made it harder to get dressed every day! You'll find you can come up with all kinds of outfits by mixing and matching the existing ones. 
Leave It To Chance
If you're struggling to decide which clothes can stay and which need to go, leave it to chance. Roll a dice, pick a card from a deck, or use a random number generator to force you to choose a set number of clothes from your wardrobe. If you have too many clothes, you need to rip it off like a bandaid and just get rid of what you don't need. 
Whether the number is five, ten, or fifteen, you can force yourself to get ruthless and pick out this amount of outfits. If you feel you need to do it, you'll show less mercy while also eliminating clothes that you don't need anymore. 
Space to Breathe
If you have too many clothes, it might be challenging to get started on cutting down your closet to something more manageable, and you will need to say goodbye to a lot of outfits that have served you well throughout the years. However, getting rid of these items will help you move onto the next part of your life, with different styles and preferences that will keep your look fresh for every occasion.