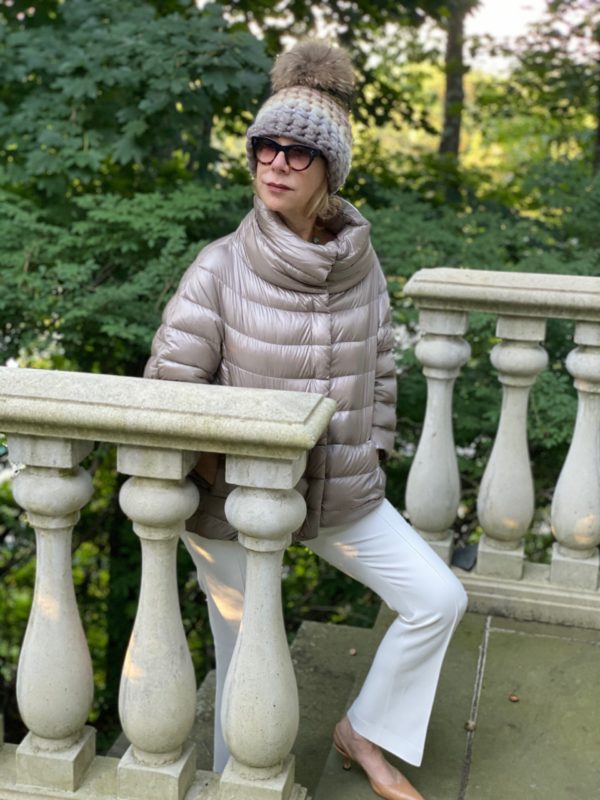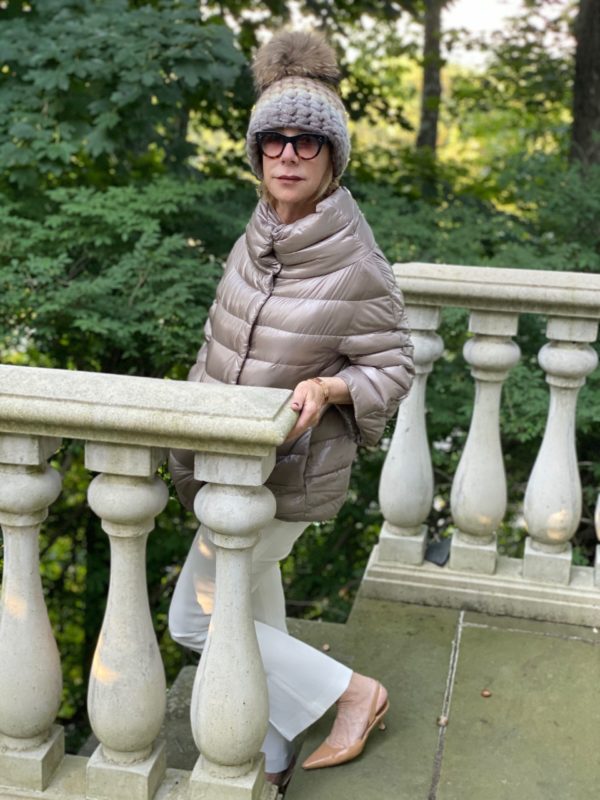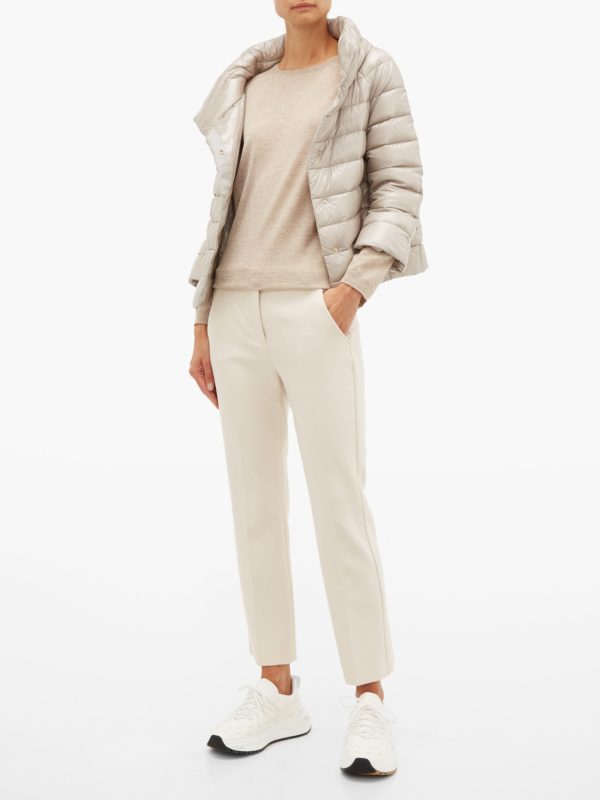 Sporty and vibrant, Herno's jackets prove that fall and wintertime practicality can still be stylish. I'm wearing the new lightweight down Herno jacket for fall. It has a funnel neck and three quarter inch sleeves and the new color is so soft looking. (It's also available in light blue and black)
This lightweight jacket is easy to wear and easy to carry. When I'm too hot I take it off and throw it in my tote bag…squishes perfectly. This is the best weight for me as I hate heavy down coats. I've already worn mine as it was so cold last week. So comfy didn't want to take it off. Herno's unique takes on the classic puffer and quilted jackets are especially impressive, as highlighted below:
Herno Cropped Puffer Jacket:
Shine on in this unforgettable zipper padded jacket, which delivers a metallic sheen and stylishly cropped sleeves. Goose down ensures that the Herno Cropped Puffer Jacket provides exceptional warmth. The jacket is also available with the attached gloves detail.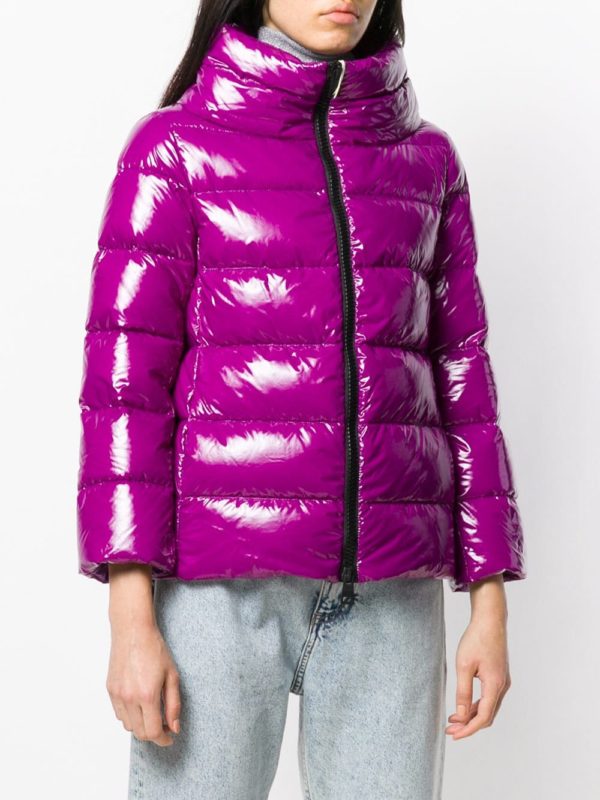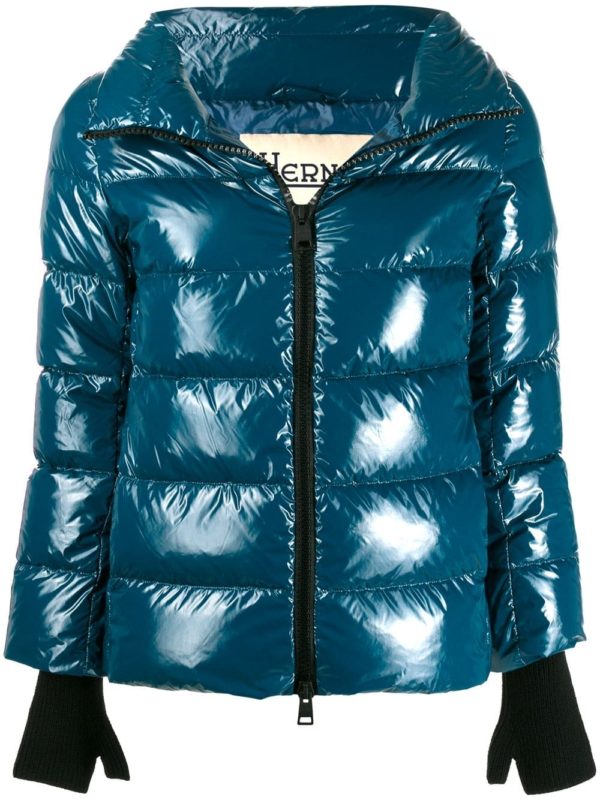 Herno Lightweight Quilted-Down Jacket:
Embrace a nonchalant look in the Herno Quilted-Down Jacket, which keeps it simple with a timeless style while injecting intrigue with its funnel neck and cropped sleeves.
Herno Quilted Faux-Fur Jacket:
The classic quilted jacket takes on a whole new look with the Herno Quilted Faux-Fur Jacket, which ups the ante with a stand-out color, a high collar, and eye-catching faux fur. Loving the white puffer.
Herno Faux-Fur Puffer Jacket:
Bring a new sense of sophistication to the fluffy puffer jacket concept with the Herno Faux-Fur Puffer Jacket, which features a stylish funnel neck and a classy, yet cuddly aesthetic.
Are you ready for a lightweight down coat? Trust me you'll love wearing this while looking ever so chic! Click any of the pink links to indulge. Pair the ultra-light Herno puffers with a Mischa Lampert pom-pom hat to complete the look.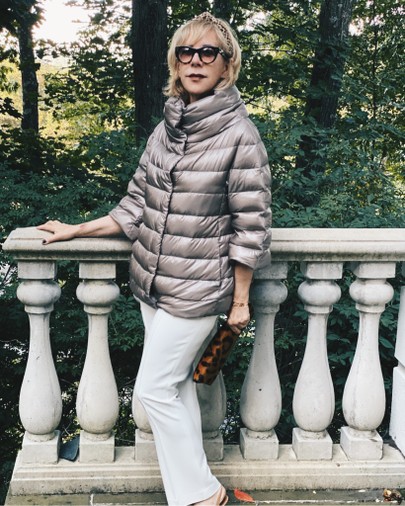 Loving these jackets? Click here now for more Fall trends!