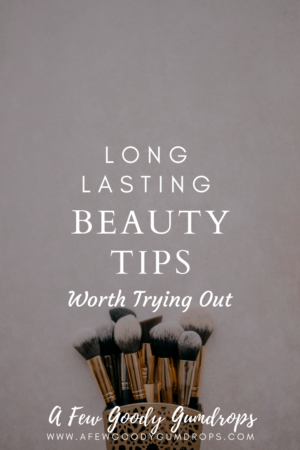 We read about beauty tips everywhere, and it can get quite tiring, especially when you feel like you've tried every trick in the book. Do you really need blood-sucking leeches to get the look you really want? The answer is no. We've searched far and wide for the best (and easiest) beauty tips out there, that are long-lasting and worth the effort of looking into. So you'll be reaping the benefits for days (and perhaps years) later, with minimal stress. This sounds amazing, right? Well, read on if you want "in" because we certainly do…
Use a primer
If you use a primer before you apply your foundation, your makeup will last longer, and you'll notice a real difference if your skin usually gets quite greasy throughout the day. It creates a good base for the rest of your makeup, and it's a better idea than just putting your makeup straight onto your skin. You'll really see the difference by the end of the day, and you won't have to put more powder on at lunchtime. Win-win. (Also, you'll still look great in the rain. Awesome).
Ditch the razors
It can be so tiring shaving your legs on such a regular basis, but you may not feel quite ready to join the non-shaving revolution. Fear not! The alternatives aren't limited to hairy legs or waxing. Laser hair removal is becoming increasingly popular, as you only need to have a few sessions before your body hair either never grows back, or is a lot lighter. If you're thinking about laser hair removal, click here to check it out, and say goodbye to regular shaving.
Blondes! Use lemon juice
Let's face it, bleach is not good for your hair. This doesn't mean that you can't get the blonde tones you're looking for, however, so don't ditch the idea until you've tried some natural methods. There are many things out there that are recommended, such as lemon juice, baking soda, and apple cider vinegar. Look up some homemade recipes, and get the ongoing blonde look that you want, without the constant stress of bleach.
Find simple ways to show your natural beauty
There are many tips out there, but the most important beauty items are those that showcase your natural beauty. Try to find those beauty products that match seamlessly with your skin tone and eye color, and you won't have to spend long amounts of time trying to make it blend in with your look and cover up common signs of aging. Your beauty is there, and the most long-lasting thing you can do is appreciate and accentuate it! You look lovely, we promise.
So there we have it, some simple tips if you want to see long-lasting effects, without going through the usual stress that beauty treatments require. They'll make your life easier, so that you can focus on what is really important, instead of wasting time making sure you've shaved every last hair off your legs. Because we all have better things to be doing than that, so steer clear of the leeches (please…).