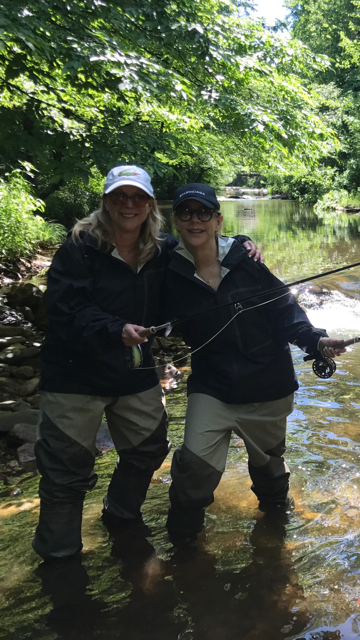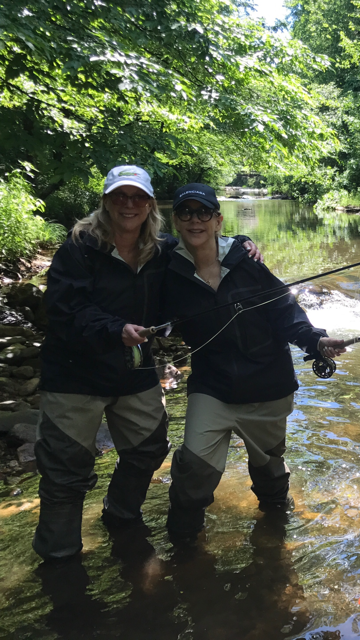 Who would've thought an upscale designer fashion blogger would actually tackle (no pun intended) fly fishing clothes? Sounds crazy! My husband and I went fly fishing years ago in Aspen, and the fly fishing bug never left me just hadn't had the opportunity until recently! (some bug…only took ten years to act on it) We were recently in Tennessee, and we decided to go fly fishing; me, my hubby and soon to be "Fly Fisherwoman" of the year, Linda. Before we went fly fishing, we had to take a class so we'd know what to do. Of course, I remembered what to do from my Aspen trip. (haha) After our course, we were ready. Orvis gear here we come; waders, L.L. Bean jackets, fishing rods, and reels. Seriously, who knew this look could be so chic even if we were swimming in our waders. I'm a lot taller than Linda but I'd sunk in the sand, and my pants were falling. I guess you figured out who I am.
MY FLY FISHING OUTFIT: STYLISH IN THE RIVER
No logo-driven fashion blogger is entirely label-less even in a river hence the Balenciaga cap and the Nars lip gloss in Belize. Hey, I had to do it! As they say…you can take the blogger out of the city, but you can't take the city out of the blogger even if you're in a rocky, muddy river. We replaced our Fendi Monster bags with Wicker Creel straw bags. How cool!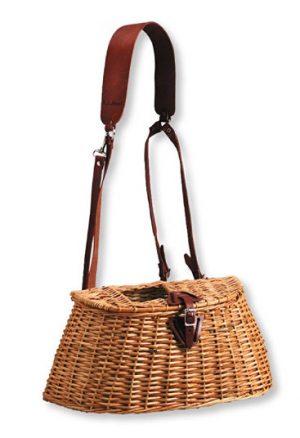 The Orvis look suited (no pun intended) us just fine especially when we were sinking between the rocks, sand, and water. My husband went off fishing with his instructor while Linda and I tried endlessly to catch a fish. I caught a few leaves, and then heard the sounds of OMG! OMG! Guess who caught our dinner? And that she did… an enormous trout! Anything's possible. The trout looked like a men's size 11 shoe. Better her than me as I was afraid to take the fish off the hook. We didn't really cook it for dinner. It was catch and release. I think it was the bait she used on her rod that did the trick. No rod is complete without fake flies, and there are tons to choose from. Hmmm…makes a nice pair of hanging earrings!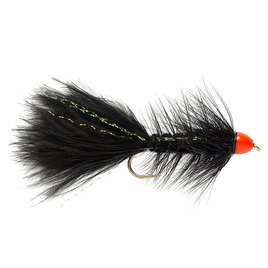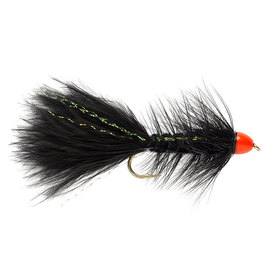 Let's get to the stylish fly fishing outfits. Loved the Orvis/L.L.Bean look especially the pairing of the pants and the attached high boots. You do know high boots are very much in style. Our outfit reminded me of horseback riding jodhpurs, tall riding boots, and a navy blazer. I think I was delirious from being in the river so long. We had the opportunity to go horseback riding but decided next trip. If you want to steal my style or my hubby's click the purple links to indulge. L.L. Bean also offers some great Father's Day gifts for Dad! The waders are surprisingly cool!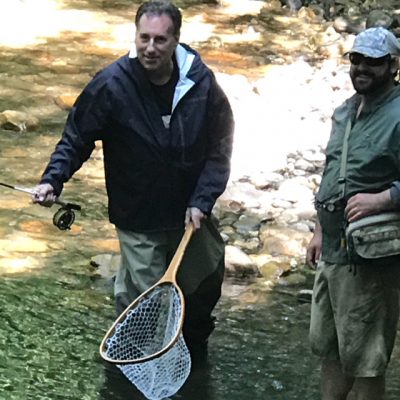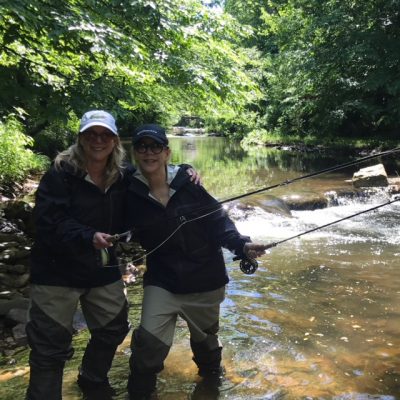 The best thing about this fly fishing day was the memories and the immeasurable fun we had. I want that guy's net!
Love this fly fishing post and want to find out more about other favorites of mine? Click here now for more goodies!