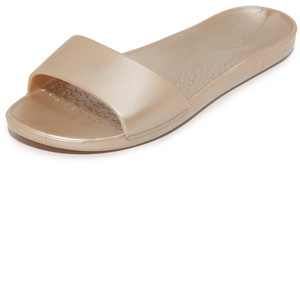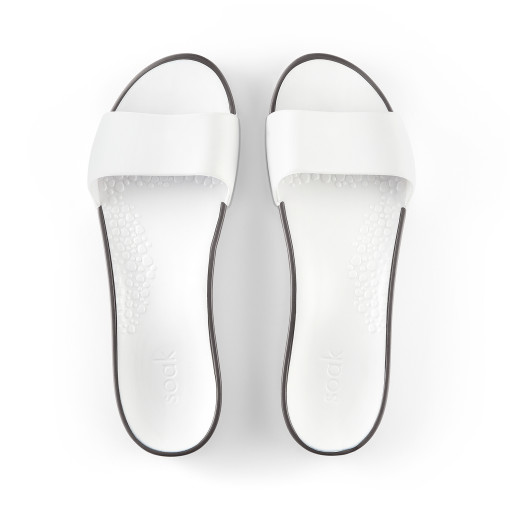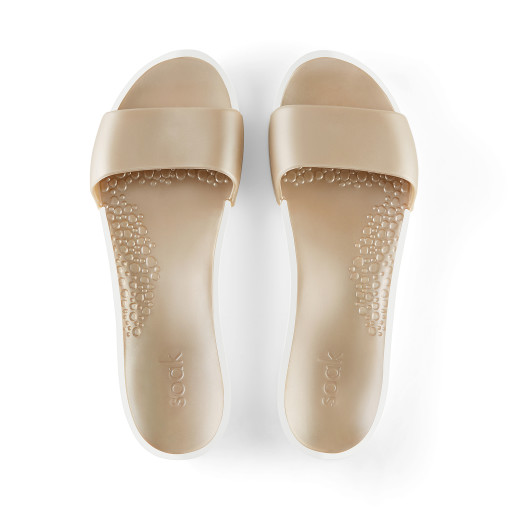 Fashion bloggers are often asked to review fashion related items.Think this is easy? It's not! Why? Because so many items we review we either don't like or can't say much about them. I'm known to write favorable and unfavorable reviews. I'm all for reviewing items I don't like, but it's great when I find one that I do. I'm brutally honest so here goes.
Today I received my complementary pair of sporty Soak slides in a chocolate/blush combo. There are many colors to chose from, and I probably wouldn't have chosen the blush as it's a tad more peachy than I expected. They also come in traditional colors; red, navy and black.They've recently added sand, white, blush, olive, brown and metallics…giving you many options. The olive tone is rather drab, and it's not at the top of my list. I love the metallic silver and gold slides!
The most important thing for my feet is the comfort. These passed the comfy vs.achy foot test. The slide features arch, toe, and heel support so you so you can wear them all day. I've had bunion surgery on one foot (the other is in need of the surgery), so I'm always looking for a comfortable shoe. These didn't bother my bunion as the piece across the slide didn't interfere with that. Very flattering on the foot. The little bubble design on the inner sole was a nice touch. (no pun intended) 
Although the bottoms are flat, they have just enough thickness to make them super comfortable. One thing that did bother me was the smell of the shoes made of PVC. I'm hoping over time that will disappear. I'm thrilled the sandals are made in the USA in Maine as I love buying American-made products. After looking at the website, I learned that Soaks are made of recyclable material that "classifies them as vegan."
The slides are designed for the "woman on-the-go." However, I would utilize them for the beach. It's the perfect shoe to wear in the sand…whether it's hot from the sun or wet from the tide. Soak slides have a cool vibe although I do not see them as an all around shoe. 
Overall I would say the slides are comfortable, easy to slip on and worth the reasonable price. I'm glad to own a pair and hoping they can work on the smell which could be a turnoff to buyers and customers. Ready to shop comfy slides? Click the purple link to indulge! Thanks for the opportunity to review the slides. Plus, I'm truly glad to own a pair or two! Update: Although I have not "nose tested" the new scent vanilla has been added to the line.