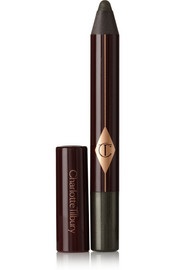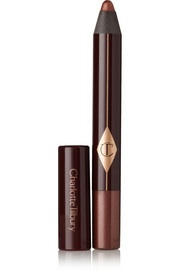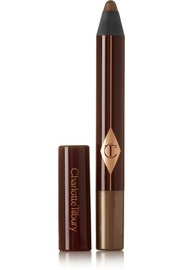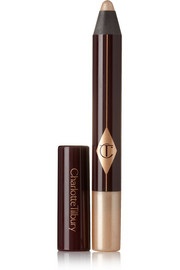 We recently scooped about Charlotte Tilbury's gorgeous collection of lipsticks. Our top choices being Nude and Hepburn. We quickly purchased and haven't taken these stunning natural shades off. Literally, been wearing morning, noon and night. The lipsticks are creamy and do wonders for the lips. 
We're now obsessed with Tilbury's eyeshadow pencils (The Chameleon Collection) infused with synthetic sapphire, a mineral gemstone that adds just enough sparkle to dazzle your lids. These eye-catching colors are gorgeous and so easy to use. Smokey Emerald is the perfect eyeshadow pencil for hazel eyes, Amber Haze for brown eyes, Champagne Diamond for blue eyes and Bronzed Garnet for green eyes. These stunning shadows are designed to bring out your eye's natural color. Of course, you can wear whatever color you choose!!!! 
The product boasts a "long-lasting, easy gliding formula that smooths on and stays in place for up to ten hours, or up until it's time to take off". That sounds good to us! Finally an eyeshadow that lasts. Tilbury's eyeshadow pencils are sure to enhance your baby blues, hazel, green or brown eyes. Be sure to view the entire Colour Chameleon Collection and find the eyeshadow pencil that is right for your eye color. Have fun smudging and blending with these incredible shadow pencils. Click the purple links to indulge.
XOXO,