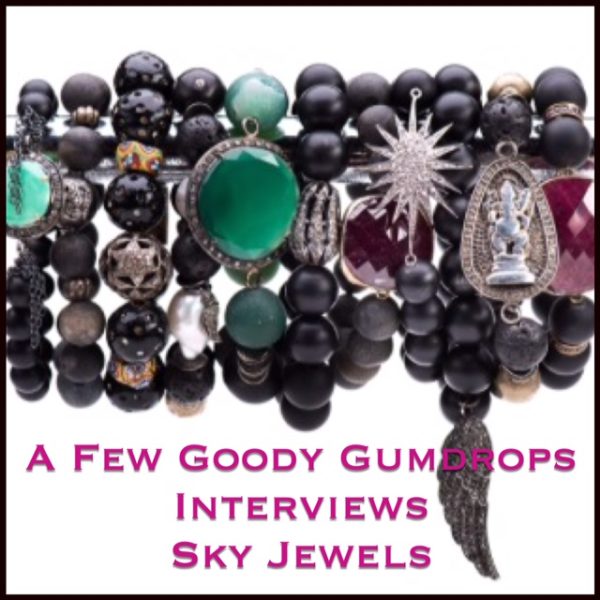 Betsy from A Few Goody Gumdrops and Stephanie from Sky Jewels met from their mutual love of caramel candy. They quickly realized they shared a passion for candy snails, beaded jewelry, charms, and Buddhas. They struck up a friendship and hence the interview. Stephanie's eye-catching handcrafted pieces are truly wearable art with an edgy modern quality. She loves mixing and layering her one-of-a-kind necklaces, bracelets and earrings with pieces from her personal collection and other designer jewelry. 
Stephanie, "I love that your pieces are original and so unique. I could buy the whole grouping of your stunning beaded bracelets. The intricate details on the beads are fabulous. This is definitely an accessory I'd never take off. The charms and beads look like you've traveled the world to find them. Your jewelry is such a fashion statement and you're on such a creative path. I can't wait to share your journey". Betsy 
1. Are you the designer of Sky Jewels? Do you have a signature piece?
Yes, I am the designer. It's my passion – I've been designing jewelry ever since I was twelve years old. I began collecting shells and beads and creating necklaces and bracelets. My favorite signature pieces are my Evil Eye and Buddha Collection. But really they're all "my babies" because I create each piece with enthusiasm and love.
2.What is the inspiration behind Sky Jewels? 
I followed my desire to create beautiful jewelry that radiates spirituality, protection, and positive energy.
3. Is your jewelry handmade? If so, are you involved in the process?
Yes, all of my jewels are handmade with love and positive energy. I'm 100% involved in the process. Most pieces are handcrafted by me and my incredible design team. All our jewelry is made in the USA. 
4. Who is the Sky Jewels customer?
A typical Sky Jewels customer is someone who is looking for a one-of-a-kind, special piece that brings light to their life. It's really for anyone at any age and so easy to wear. 
5. What are your price points?
My prices range from $100 to $3,500. I will customize anything to accommodate my loyal customers. I want everyone to enjoy and love wearing Sky Jewels.
6. Would you say your jewelry is classic, vinatge-inspired, edgy or all three?
I really feel we're all three. My jewelry can be mixed and matched with anything. You can wear the Cartier Love Bracelet or the Hermes H Click Bracelet or both paired with our diamond stretch bracelets. We've had customers wear a beautiful Van Cleef Motif Necklace with Sky Jewels earrings or necklace!!! My pieces can be worn alone or layered for a trendier look. Happy customers love mixing up and layering my pieces with designer jewelry.
7. What types of stones and materials do you use?
I typically use natural materials: semi-precious gemstones, conflict-free diamonds, Tahitian, Baroque and Freshwater pearls, pave diamonds, diamond components and semi-precious, trade and prayer beads from Ethiopia and Tibet. I often incorporate these stones with my oxidized sterling silver chains. I design one-of-a-kind limited-edition pieces so everyone feels special and unique.
8. Where can your jewels be purchased
SkyJewels are available in boutiques across the country ranging from Aspen to Philadelphia and of course. Click the green link to indulge my exciting collection.
9. What does your logo stand for?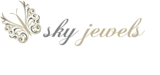 My logo is very important to me. I love butterflies because they symbolize: grace, elegance, transition, growth, expansion, expression and the soul. Butterflies are beautiful. They give love and light.
10. What is your favorite fashion blog???
A Few Goody Gumdrops of course 😉  
11. Where do you see yourself in ten years?
Still creating beautiful jewelry. Maybe…living on a warm island!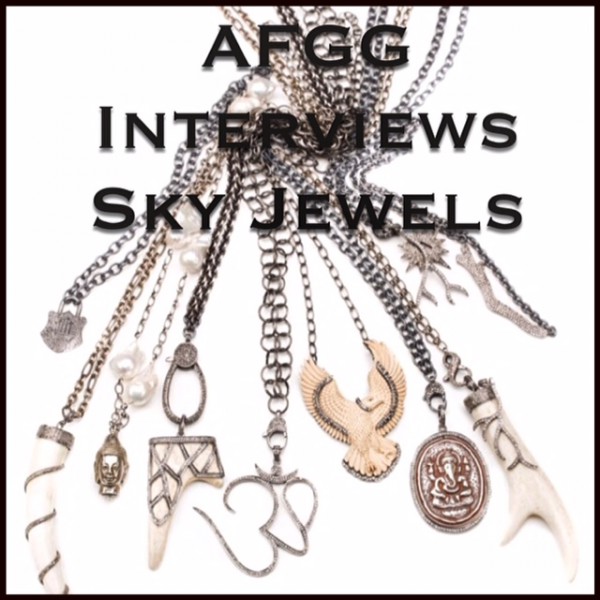 XOXO,