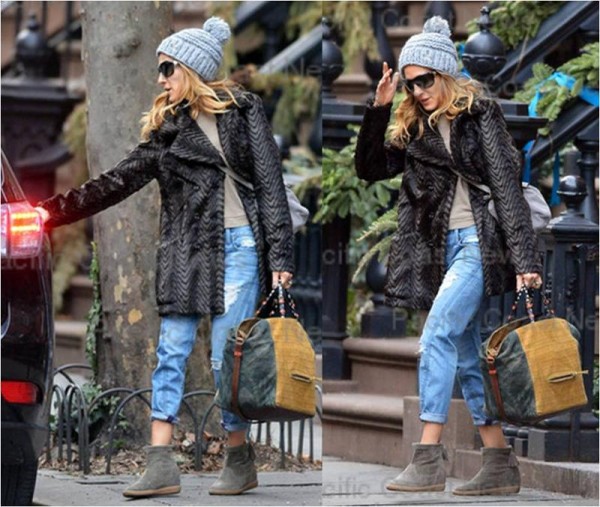 Last spring I had the pleasure of having a bracelet named after me from Threads of Friendship appropriately called…The Betsy! Very exciting to have an accessory or piece of clothing named in your honor. (thankfully, not my memory) One of the PR firms (we work with) just sent us the scoop on the latest pair of jeans to be named after an actress.The jeans? Level 99. The actress? Sarah Jessica Parker. The name of the jeans? The Sarah. The launch? Spring 2013.
We're always searching for that enviable pair of jeans that hug the body just so! So far that has remained almost impossible. If the waist fits then the butt's tight or the waist stretches, the knees are baggy, the waist is too low when you're sitting…you get the picture! The worst is jumping all over the room to get your jeans on, lying on the bed to get them zipped and by the time you get them on you're in a total sweat. Enter "The Sarah" Jean. The cut, style and slightly looser denim appears to be exactly what I'm looking for. Finally, a pair of jeans that will fit with ease!
Sarah Jessica Parker was seen wearing the Level 99 Sarah's recently in New York City and Los Angeles. Level 99 designed and named this style after the fashion icon, as she was spotted several times this winter wearing the brand's distressed boyfriend style slightly rolled up. Based off their best selling "Relaxed Lily" body, Level 99's Sarah has front panels that twist to the center creating the illusion of a long slim leg.That slimmer leg "look" works for me!
Can't wait to buy a pair of these incredible fitting jeans.They're sure to be an instant hit especially with the signed pocket! We'd pair with funky ankle booties, a cashmere sweater, cropped tee and a over-sized handbag of your choice!  XOXO