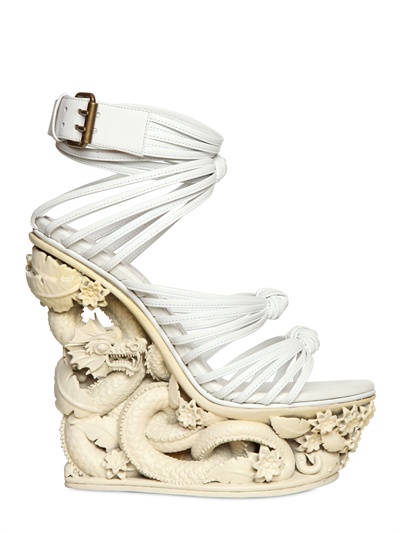 The right pair of shoes can make you feel like a million bucks. But only rare, special shoes can make you feel like you can set the world on fire…literally …with your hotness and fashion savvy.
Consider, in that light, these Emilio Pucci 150mm dragon wedges…glorious, serpentine, structurally magnificent works of art. These Italian-made, 100% calfskin wedges feature all the "fashion trimmings" you would expect from a top-end designer, such as an adjustable leather ankle strap, buckle closure, leather insole, micro sole, et cetera.
But look a little closer…but not too close, or else you'll be peering into the eyes of dragons. Sculpted, resin dragons, that is! Nested among resin flowers in the heel and platform area, these exquisite dragon wedges are hauntingly beautiful and somehow also surprisingly delicate.
If you've ever wanted to feel like a walking statue…or a work of art imported through time from ancient China (or, perhaps, ancient Greece)…then these dragon wedges are for you. What's really cool about them is that, from a distance, they don't look that much different from your "typical" designer wedges. But as you come close, and you become aware of the ornate and fantastical sculpture, you just can't look away. These wedges grab your attention and refuse to let go.
If you've been blessed with beautiful legs, calves, ankles, and toes, these dragon wedges will showcase the best elements of your form. And let's face it. There's something delicious about literally walking on dragons with every step you take…it's a not so subtle metaphor for "having arrived" at a high station in life. When dragons literally cower beneath your feet, every step you take, you can't help but feel uplifted, empowered, and ready to take on anything the world throws your way.
You belong up on a pedestal, figuratively and perhaps even literally. So consider adding these calfskin dragon wedges to your bag of goodies, and indulge your inner reptilian desires for comfort, power, and the luxe life. Click the link to indulge!
Loving this Emilo Pucci dragon wedges feature? Click here now for more of our favorite designer shoes!!