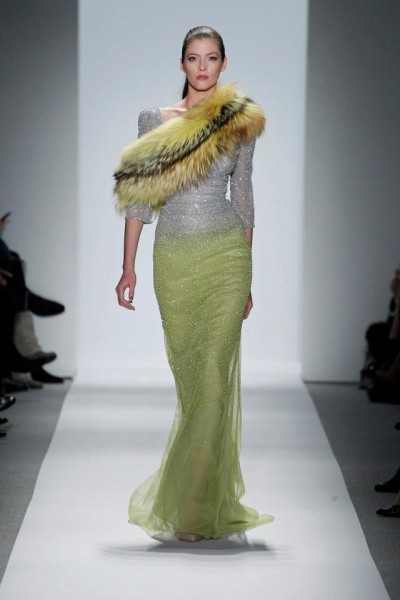 A Few Goody Gumdrops is so excited to share Dennis Basso's Fall/Winter 2013 30th Anniversary Collection.Basso is know for his sumptuous furs (sable, mink, lynx, fox, chinchilla) and luxurious fabrics (taffeta, organza, velvet, duchess satin, sequin tweed, alligator).This collection captures that and more with many pieces shimmering and lighting up the runway.
"My 30th anniversary collection is a tribute to the great American fashion icons. Women such as Babe Paley, Gloria Guinness and Milicent Rogers embody the glamour, strength and elegance that has inspired me throughout my career." Dennis Basso
The subtlety lavish designs, the ultra stylish pieces and incredible attention to detail make this collection one of the best we've seen for the upcoming fall/winter season.The dramatic acid yellow hand embroidered gown with the coordinating dyed fox wrap is beyond stunning and one of our favorites in Basso's curve hugging collection.Chartreuse is a biggie for fall.(Oscar's chartreuse colored gown was recently featured on the front cover of style section of the New York Times not to mention my latest purchase, an acid yellow clutch) Basso's plush fur coats, shrugs and wraps complimented many of the outfits.There isn't a fur piece we wouldn't be dying to own! (Sorry PETA).
A huge thanks to Dennis Basso for sharing his fall/winter 2013 photos with us and letting us feature this to-die-for collection on AFGG. Photos from "Dennis Basso FW13 NEW YORK FASHION WEEK ©DAN & CORINA LECCA" Make sure to scroll down and view a sampling of the collection and another gorgeous and droolingly sheer gown featured at the bottom.