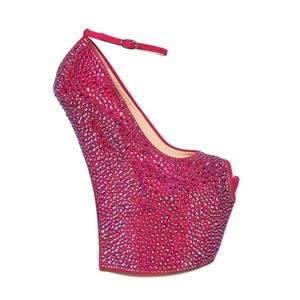 A choice stands before for you: do you pay the mortgage this month, or do you invest over $2,000.00 in a pair of stunning Italian wedge heels?
If you're cash strapped, your answer should (hopefully) be: "perhaps, in 2014!"
But if you've earmarked some petty cash to spend on fashion, pay close attention to these phenomenally pretty Giuseppe Zanotti 200MM Swarovski covered suede wedges. Warning: you may need your sunglasses! The Swarovski crystals that bedeck the luxe suede, like a lavish slab of mica, glint and glitter with a ferocious intensity. It's almost as if someone swept up every shiny gemstone at a jewelry shop and then meticulously adorned the pebbles to 100% calfskin wedges.
Other than the endless crystals, the wedges are simple and to the point. They feature little more than a detachable suede ankle strap and buckle closure. As the Jews say during Passover: Dayenu! (translation: "that's great enough for me!").
Giuseppe himself hails from Rimini, Italy, a pastoral town featured in Fellini's films and renowned for its traditional shoemaking. On Zanotti's official website, he boasts of creating a "shoe factory… more akin to a fashion house… to meet the needs of every woman's foot, not as an industrial concern that mass produces tedious shoes." The craftsmanship, care, and thoughtful construction shine through (in a metaphorical sense) almost more so than do the glittering baubles that grace the wedges.
If you live locally to Zanotti, in Beverly Hills, these wedges should be perfect for gala entertainment industry functions, like the Oscars, Emmy's, or even the lowly People's Choice Awards, if you deign to lower yourself to attend such only-quasi-glamorous events. The wedges will give you a boost…surprisingly useful, if you're petite. Stand tall wherever your travels take you…a fancy soirée, a tony business function, an important corporate cocktail party, etc. The wedges are also, let's face it, a lot of fun!
You don't need to hang with the fashionista to indulge, at least every once in a while, in something decidedly decadent. These heels require a steep investment, but they will serve you well for decades: the style is timeless and the craftsmanship unparalleled. If you dare to indulge your fashion palette in 2013, consider rocking these shoes. Click the link to over-indulge!