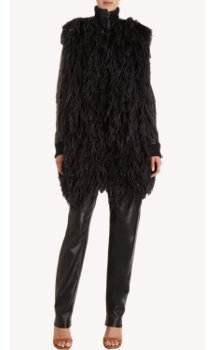 Even if I can't pronounce the whole name correctly…Maison Martin Margiela, I still LOVE/WANT this "standout" leather/feather jacket. It's ultra chic and perfect for cold days except I'd probably skip the sandals and pair with Walter Steiger's warm Fox Fur front panel ankle boots. The jacket (and boots) are dramatic and fun without being over-the-top "cuckoo". It does have a feathery cocoon look which I adore as it makes one look thinner under the mass of black feathers.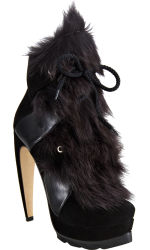 Margiela's mid length coat features incredible detailing, lambskin leather, hidden front buttons and a black ribbed knit collar and cuffs. Although feather pieces tend to have a costumey look…we'd wear this in a second. Very pricey but what better way to to stand out in the crowd without being flashy. It reeks elegance and lots of feathers!
If you're ready to start flapping…click the link to indulge MMM'S jacket and Walter's boots. I'd pair with black leggings, a cashmere sweater and a bright green knit cap. (just to add a drop of color) You're all set to brave the cold blistering weather…brrrrrrrrr but you'll look amazing especially to your fine feathered friends!