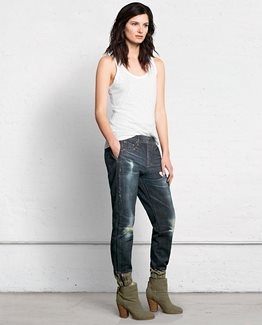 Just bought these!!! I saw them on my girlfriend and was fascinated…thought they were adorable. They're actually my dream pants…SWEATPANTS from Rag and Bone that look like this season's hottest distressed jeans….which makes them even comfier than regular Rag and Bone jeans which are very easy to wear, too!
These  jeans are the digitally printed sweatpants created from the classic women's Rag and Bone jeans in the signature Sheffield wash. These jeans appear to be vintage but they're actually made from terry cotton…the Pajama Jeans. A must-have for really hanging around! Click the purple link to indulge!!!! You'll thank me….I'm thanking my friends for sharing with me! I have NOT taken them off. Pair with a Rag and Bone top, tee, tank or sweater. You're easiest way to look ultra hip and be comfy. Pair with ankle booties or Isabel Marant's Birkenstock-inspired sandals we love and own.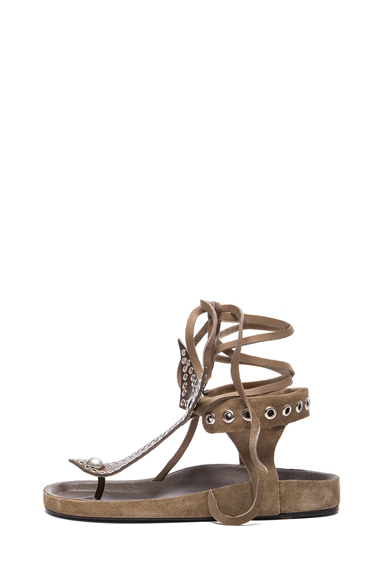 Loving the khaki color and the funky ankle wrap. Now deemed the perfect sandals to wear with jean sweatpants, ripped skinny jeans, denim shorts, skirts and this season's hottest cropped trousers. Marant's Edris Calfskin Velvet Leather Sandals have just the right amount of detailing with the silver-tone grommets and the calfskin leather details.Click the purple links to indulge. For those of you who need to play it safe...they're available in black.