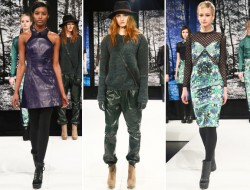 If only there were just a few #snowflakes but #NYFW was pounded
with a #snowstorm and #wintry #conditions! (I'm learning to use my #hashtags!!!!) There was not a drop of snow in Charlotte Ronson's Fall/Winter 2013 show and it went on without a #blizzard, looking very fallish inside with autumn colored clothes to match the fall backdrops.
The backstage show was great and we enjoyed watching the models do their thing. I'm sure Charlotte's Mom, Ann Dexter Jones (#jewelry) was very proud of her daughter. #AFGG wishes to thank VideoPump for the awesome #fashion #show.Very cool fall wall coverings and music from my era! (#shhhhhhhhhhhh) The clothes were just what you'd expect and want for fall…the cool girl collection!