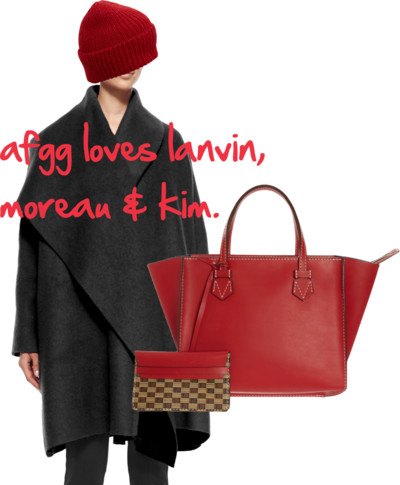 Just wanted to share a few of my favorite goodies this season. In our humble shopping opinion they're definitely worth the splurge $$$$$. FYI…we've only chosen pieces that can be worn for seasons or years to come. If you're going to splurge, classically stylish is the only way to go. Loving Lanvin's black mohair coat with draped lapel (there's a shorter version: double-breasted black mohair melton coat) with Eugenia Kim's warm red ribbed beanie to keep your head from freezzzzzzzzzzing and Maison Moreau's (Goyard fame…you can't miss the hanging pouch) Bregancon Zip Tote in red grained leather. Maison Moreau's totebag comes in an array of gorgeous color leathers with white top stitching. BTW…who is under that striking red beanie??? 
When it comes to choosing a coat, hat and bag we've shared three très chic must-haves for the winter. (two of the three pieces are french) The red accessories add a stunning pop of color to Lanvin's fashion-forward black mohair coat. Now…all you need to do is click the red links to indulge. While I was proofreading this post the price of Lanvin's draped mohair coat dropped in price. Aren't you lucky!
AFGG is making shopping so easy…you never have to leave your house. No crowded stores, attitudes or shopping bags. After you shop this post…go over to Betsy Loves to Shop and click on our favorite online retailers and do some more relaxed shopping.
XOXO,