Have you ever had a pair of shoes you loved but couldn't wait to pry them off your feet as soon as you get home? Why is it that our favorite, most fashionable shoes tend to kill our feet?
I stumbled (no pun intended) on insoles for plantar fasciitis. This was a definite game changer and the best gift I could give myself and my poor aching feet.
Here's my story:
I've been abusing my feet for years and I'm now paying the price. I wore heels that were too high, too tight, and overall just incredibly uncomfortable! But, of course, they looked great so I kept wearing them. Never stopped until I could barely walk from the pain! For me, it was always Fashion over Comfort. I never realized I was causing my painful plantar fasciitis.
I actually left a luncheon in NYC once over a pair of fashionable, yet ill-fitting shoes. I was wearing a beautiful pair of stilettos. Unfortunately, my feet didn't think they were so beautiful… I took those heels off and walked barefoot on the filthy streets of New York, all the way back to the hotel. I was grossed out.
I knew I couldn't continue like this. Due to my lack of concern over my feet, I even needed bunion surgery.
I realized my feet needed support after so many years of abuse. Thankfully, a friend told me about PowerSteps orthotic insoles. I bought them, begrudgingly, knowing full well when they arrived I wouldn't even want to wear them. But guess what? I decided to try them anyway and Thank God I did!
Putting those insoles into my shoes made them transform into something my feet could actually be happy about! I finally had the best walk I've had in a long time. So comfy and easy to navigate the streets of NYC finally!
Here's what these insoles do: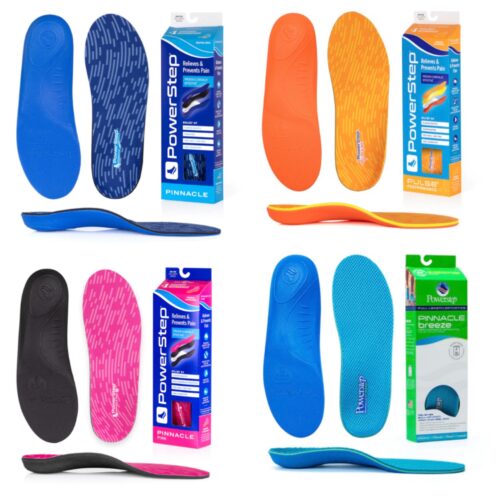 Full length, total contact support with an odor control top fabric that helps reduce heat, friction, and perspiration
Firm but flexible contoured neutral arch support with a deep heel cradle for increased comfort, stability, and motion control for those with standard arches
Premium dual-layer support cushioning for enhanced comfort from heel to toe
Perfect balance of comfort and support that stabilizes and aligns the feet to help relieve and prevent pain from mild to moderate pronation
Moveable from shoe to shoe with no trimming required
There are a great choices for arch pain, support, orthotics, plantar fasciitis and more.
There are my new favorite sneakers by Hoka and let me tell you, I now live in these things. These Hoka running shoes are called "Speedgoat" and come in many different color combinations. I step it up a notch with matching neon socks too.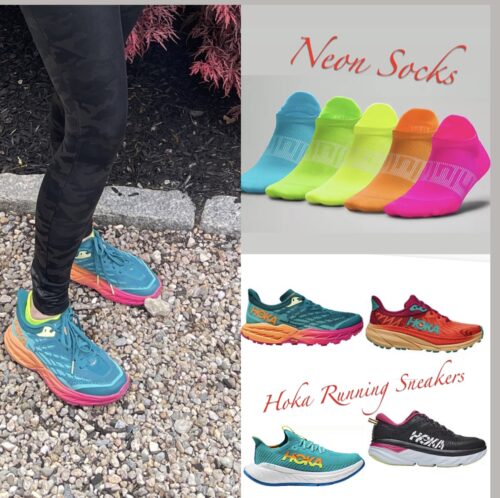 Vionic Shoes offer comfort and support but they don't compromise on style which makes these shoes a win-win. So many cute styles to choose from including ballet flats, slipons, wedges, booties, and more. You'll be hard-pressed to only buy one pair.
Another shoe that I recommend are Adidas sneakers… You really can't go wrong with any of their amazing athletic sneakers or running shoes. I've never worn a pair of Adidas sneakers that I didn't love.
Here are a few of my favorites:

No matter what shoes you love to wear, just make sure they are comfortable and aren't causing you foot pain. And if they are, fix it with insoles from PowerStep! You can thank me later!
XOXO,