Here's Everything You Need to Know When Shopping For This Iconic Australian Fashion Label
Australian-based women's fashion brand Lioness is known for creating some of the most stunning luxury dresses, tops, skirts, and jackets in the fashion world. Their designs are praised by women the world over including celebrities and social media influencers. If you're looking to update your wardrobe with something stylish, eye-catching, and modern, Lioness's products are known for their perfect fit.
Where Can You Buy Lioness Brand Clothing
Lioness brand clothing can be purchased from the brand's official online store at LionessFashion.com.  Lioness brand products are available from other online fashion retailers like Shopbop and get International shipping if you're outside the US. 
Lioness's Hacienda Corset Mini Dress
View this post on Instagram
This mini dress is one of the brand's most popular sale items and only available in black! 
Lioness's Hacienda Corset Mini Dress is the perfect party dress. The mini dress features a strapless design, front hook closure, and satin fabrication. The dress incorporates design elements from corsets and traditional mini dresses all while giving the brand its own signature style. This dress is available in sizes XXS through XXL and is made from 95% polyester and 5% elastane. 
Rendezvous Strapless Dress By Lioness
View this post on Instagram
This midi dress is one of the brand's most popular items. It's available in a beautiful shade of pink.
The Rendezvous Strapless Dress by Lioness is definitely a must-have for anyone looking to breathe new life into their 2023 wardrobe. This midi dress is strapless, features thigh high splits, a ruffled edge hemline, and ruched side detailing. It's made from 88% nylon and 12% elastane. This dress can be purchased in XXS through XXL. Because of the dresses popularity, it's not uncommon for it to be sold out. Luckily the dress can be preordered on the brand's official website.
Miami Vice Pants By Lioness
These pants are available in an array of  colors including green, blue, beige, red and many more. Image courtesy of Lionessfashion.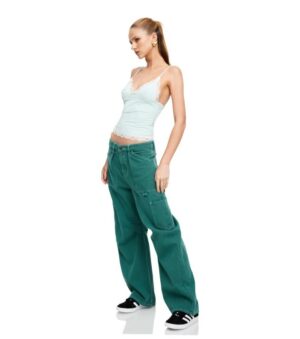 The Miami Vice Pants by Lioness are a great pick for the casual skater-girl look. These pants feature a low-rise baggy fit, tucked detailing along the inner seam at the knees, multiple pockets, and zip-up closure. The pants are made from 100% cotton and can be purchased in XXS through XXL. 
Lioness's Las Flores Bikini
This bikini is one of the brand's best-selling sale items. It's available in three colors, blue, pink, and white. Image courtesy of Lioness Fashion.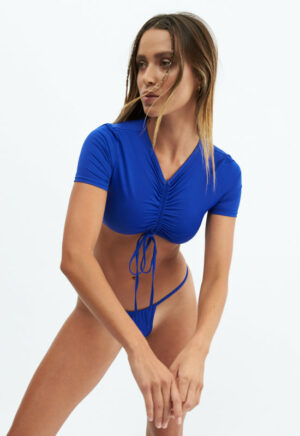 Lioness's Las Flores Bikini comes with both the top and the bottom pieces of swimwear. The top features a cute crop top style, high body coverage, and adjustable front ties while the bottom has minimal coverage. Both the top and bottom are made from 82% nylon and 18% elastane. This swimsuit is perfect for Miami Beach.
Lioness's Kenny Skirt Floral
This skirt is available in a lovely floral pattern. 
View this post on Instagram
Lioness's Kenny Skirt is exactly the style you need to embody everyone's celebrity crush. This stunning floral skirt features a form-fitting design with an invisible side zipper. The skirt is made from 50% viscose and 50% nylon. It's fairly delicate so be sure to handle it with care. It's available in sizes XXS through XXL.
Important Information to Know While Shopping With the Lioness Brand
The Lioness brand has sales! The brand typically holds seasonal sales throughout the year, sometimes it's for holidays like Christmas and for special occasions such as New Years. The brand has promotional sales such as a first-time purchase sale. It's easy to find the items currently on sale by clicking on the red sale button at the top of the brand's official website. This sale page includes items from most every collection in the brand's catalog with some exceptions such as brand-new products.

You should keep your eyes open for counterfeit products. Whenever a brand becomes well-known or in demand

, counterfeit or fake versions of that brand's merchandise may begin to pop up on the internet and on the street. Most of the time it's pretty obvious to spot counterfeit clothing, such as logos being printed in the wrong spot or identifying a small difference. However, it can be difficult to spot these details when shopping online since you may not have access to every angle of the product. The best way to avoid wasting your money on fake Lioness brand merchandise is to purchase the brand's products from their official website, Instagram, or from officially affiliated online retailers.

The Lioness brand has an active Instagram page. It has other social media profiles but their Instagram is really the star of the show. The brand's Instagram features photos of many of the brand's products being worn by both professional models and regular people. They share a list of affiliated retailers on their Instagram as well. The brand  displays the Shop Instagram feature which allows you to click on different pieces of clothing in some of their Instagram posts and will take you to that product's store page!

How do the brand's products fit? According to the product reviews on the brand's official website, most of the brand's products fit true to size. This includes dresses, tops, pants, and outerwear. Almost all of the brand's products are available in size ranges 

from XXS to XXL. If you have any further questions about the brand's sizing, check out the sizing guide that can be found in the description of almost every item's product page. This chart shows size information for the waist, bust, and hips. It can also display these sizes in either centimeters or inches. The sizing guide only shows sizes for the United States.

If you're looking to stay up-to-date on everything Lioness is highly recommended. Be sure to give the brand's press page a look. Their press page contains articles that discuss 

style guides and what-to-wear. 

This is where you can learn about upcoming collections or collaborations the brand is planning.

Speaking of collaborations the brand has done a few collaborations with some popular social media stars like

Pia Mance

and

Diez

. These collections feature newly designed dresses, tops, skirts, corsets, blazers, and pants. Each one offers its own unique style while still retaining the core essence of the Lioness brand.

Wondering who the brand's owner is? Her name is Wendy Lin and she is both the

managing director and founder of Lioness

. She has her

own personal Instagram page

which she posts to frequently. If you're interested in learning more about her, check her page out and give her a follow.

If the Lioness brand has become your newest obsession as it has for many women worldwide, consider checking out the brand's pre-order page. Here you can find a wide range of items and styles that have yet to be released and pre-order them when they first hit stores. It's the best way to beat the store rush and traffic since pre-ordered items can be shipped to your home address, assuming you live in the United States.
Conclusion
The Lioness brand has certainly made a  large name for itself since the brand's launch back in 2009. Through Wendy Lin's leadership, the brand's commitment to quality and exceptionally designed items the brand  has earned a glowing reputation. If you don't own any pieces from this brand's catalog we hope the information provided here has piqued your interest and you'll want to try at least one of its products.
XOXO,