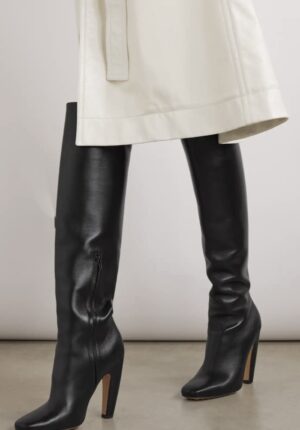 How many pairs of boots do you own? Do you know this season's trendiest boots are edgy and black. Are you obsessing over a pair of the most AVANT-GARDE black boots? Then let's start with my ultimate guide!
You'll surely love some of my curated pieces in all price points. Did you know you can dress black boots up or down ranging from ripped jeans to a stunning pant suit?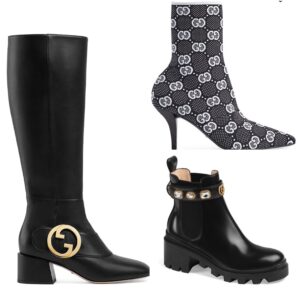 Many of the black boots I'm sharing are fairly casual accept the stunning Gucci boots ADORNED with logos, the designer's name and faux pearls. Gucci is known for its fine Italian craftsmanship and DISTINCTIVE style.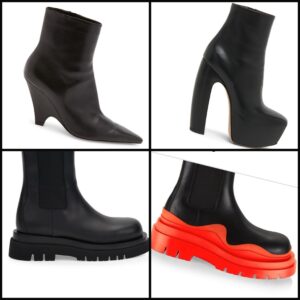 Let's explore some of Bottega's edgiest boots on the market. Always the swankiest and most daring designs. I'm obsessing over the tall knee-high boots. I own the pair in the upper left box and the lower right with a DRAMATIC pop of color. The upper left boot features a pointed toe and a sculpted heel which makes it very easy to walk in maintaining its high fashion. In the right hand corner we're featuring (sounds like we're in a boxing match) the-not-so typical platform. These have their own gargantua unique platform with the curved heel. Yay or Nay?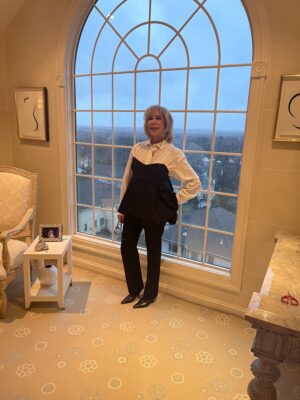 That's what to expect from designer boots.
Vince boots always have a "kick" to them!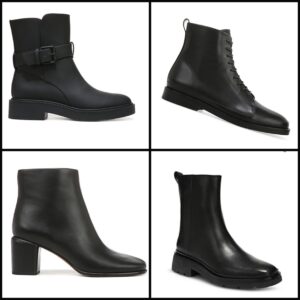 The smooth leather luxury Vince boots are the perfect pair if you're looking to keep the price down without compromising style and design. Many are on sale which make the boots even more attractive! The design and styles are right "in step" with the more expensive versions. Why not get the look for  less. Shhhh no one can tell!
Marc Fisher boots are "strutting" an edgy look similar to Bottega's but very well priced! 
Click any of the links and shop some   gorgeous black boots. The "Quintessential" black boots go with so much in your closet! Always remember to wear it your way!
XOXO,