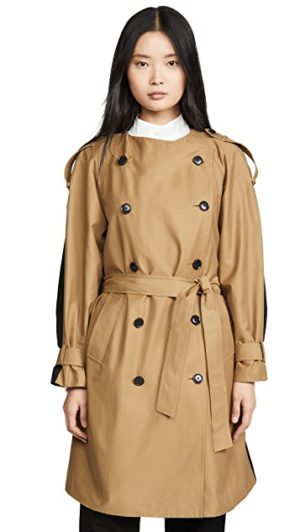 Classic, yet edgy, the trench coat never fails to make an impression. This season, the look takes on a new element of interest, adding a variety of artful details while maintaining the aesthetic that has made it such a perennial favorite over the years. These are not your average designer trench coats. They're so cool let in rain!
Favorite Designer Trench Coats for Spring:
FRAME Colorblocked Trench Coat
The trench coat has traditionally been dominated by a single color, but that's about to change. This coat from FRAME makes an impression by featuring bold and decidedly separate blocks of color at the front and back.
Zadig & Voltaire Mia Trench Coat YB
Distressed style meets trench coat confidence with this eye-catching option from Zadig & Voltaire. Shoulder-based epaulettes stand out, but this trench is most notable for its branded inscription at the back of the collar and its yellow tie at the waist.
R13 Tuck In Trench Coat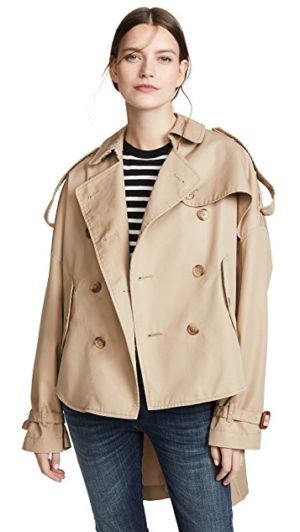 This R13 trench's high-low cropped hem provides a fresh feel while also upping the versatility factor. Feel free to tuck this memorable coat in at the front or leave it out to achieve an effortlessly trendy aesthetic. R13 is known for their edgy off beat style.

While this trench coat is one of the most elegant and features a hefty price tag its not your average everyday throw on. Banleciaga's oversized signature style continues to "rain" supreme in many of their coats. Are you ready to pay almost $3000?

Didn't they invent the trench coat with their signature plaid? Never goes out of style. So let it pour! You may also love Burberry's reversible trench coat.
Ready to shop this season's designer trench coats? Click any of the links to indulge.
Loving these designer trench coats? Click here now for more Spring trendsetting!