Bottega Veneta Orange 

The color orange can feel daring, but it's beginning to make its mark on the runway and on Instagram, where influencers appreciate the bold look that this hue can instantly bring to any accessory.  Such is the case with the orange version of Bottega Veneta's BV Jodie crafted from smooth and luxurious nappa, this versatile bag works well as a casual weekend accessory but fits in a variety of environments. It works as a saddle bag or a shoulder bag, so go for whatever works best for you ergonomically.

The intrecciato side panels are hand-woven to grant the handbag extra dimension. (A nod to the famous L'Isola Memmia—a green space in Pavoda, Italy's 

Prato della Valle

.) A suede lining brings sophistication to the bag's interior, while an inside pocket makes it easy to store essentials. Pair with a neutral-dominant outfit for an instant pop of color.

The Pouch

comes in large (as seen),

a smaller version

(adorable) and

the mini.

You can also feel good about looking good—Bottega Veneta has earmarked proceeds from this bag to go towards an 

anti-cyberbullying campaign

supported by the Kering Foundation. The

maxi pouffy bag

is simple classy and stylish.
The new Twist is one of our favorites! The bag can be worn as a wristlet or carried in the palm of your hand. I thought this would be clumsy but it's so easy to carry. The bag is opened at the bottom which I thought would be a pain and after dropping all my stuff out twice I realized the bag wasn't totally zipped. The bag is so easy to open. The Twist is a pleasure in every respect.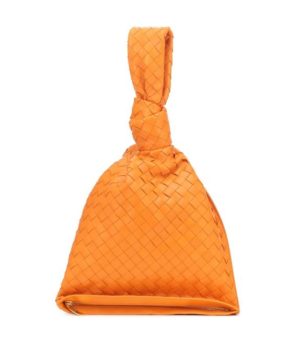 This season, it's all about the color orange. Can Bottega's orange compete with Hermes orange? I doubt it but it sure can run a close second! Click any of the links to shop Bottega's orange crush! Be sure and check out the orange Bottega padded Casette Bag.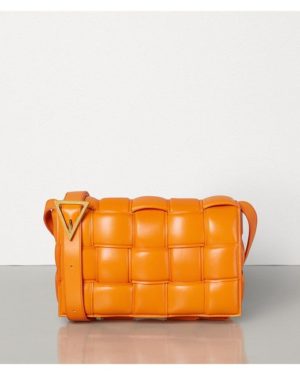 It's the perfect day to evening bag and the small amount of gold hardware is just enough to make the bag simply elegant.