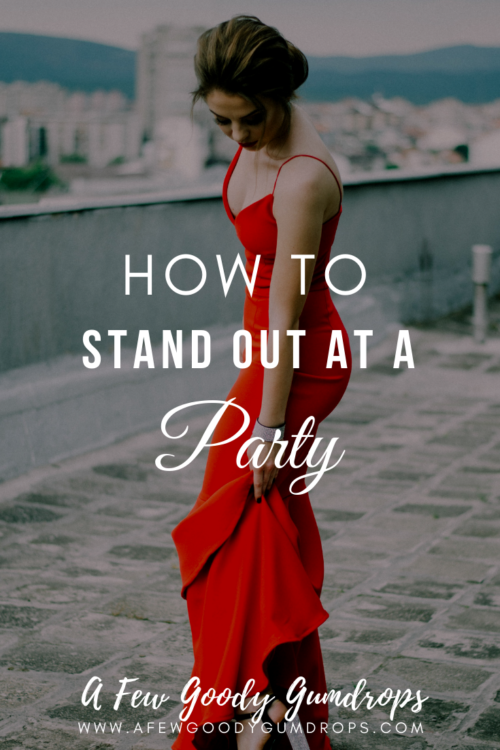 Have you thought about how to stand out at a party? First, let's be honest about parties… They are fun, yes, and a great chance to spend time with your closest friends, but there's another angle to them, too: they're about making an
impression
. At most get-togethers that you go to, you're only going to know a relatively modest percentage of the people there. The rest will be strangers, and that means that you've got a chance to make a stellar first impression. And though some people argue otherwise, it's hard to deny that the first impression is based on much more than your appearances. So if you want to stand out and catch the eye of the other guests in attendance, what do you do? Below, we take a look at four tips that'll have you stand out and turn heads for all the right reasons.
Perfectly Prepared
Preparation is everything when you want to stand out. If you're rushing to the party straight after work, then you're not going to be in the right frame of mind to make a positive impression. While what you're wearing and so on plays a big role, you can't underestimate the impact of your presence. If you've prepared for the party by spending a relaxing day at home, building up your energy and engaging in a bit of self-TLC, then you'll have that radiant calm look and feel about you. Even the most well-dressed person can lose points if they look a bit frantic and frazzled from the day.
Little Black Dress
You could try and buy the latest fashions, but it's taking a chance: what if your bold move doesn't come off? In any case, there's little point going down that route when you have a firm favorite as an option:
the little black dress
. There's a reason why they never go out of style – they always catch the eye and stand out for all the right reasons! If you haven't yet got one, it's time to hit the shops. Once you've found the one that's perfect for you, it'll be a go-to item for years to come and make it easy to dress up when you need to.
Accessorize
But you can't expect your clothes to do all of the work. A little black dress will be a good start, but it might look a little plain if that's all you're wearing. Complement your outfit and really stand out by wearing the right accessories,
jewelry
in particular. It'll bring the dress to life, and catch the eye of the people as you pass by. Of course, don't go overboard. The vibe should be 'subtle but powerful.'
Hair and Makeup Routine
What you're wearing will take you a long way to make you stand out apart from the crowd, but you'll need a stellar hair and
makeup routine
to take you to the next level. This shouldn't be your usual, everyday cosmetic routine: when it comes to parties, you should push the boat out and really create
a look that stands out
. Parties are always fun, and they're even more enjoyable when you know your brilliant, dazzling best. Walk through with confidence, stand out, and enjoy the sensation of having all eyes on you.