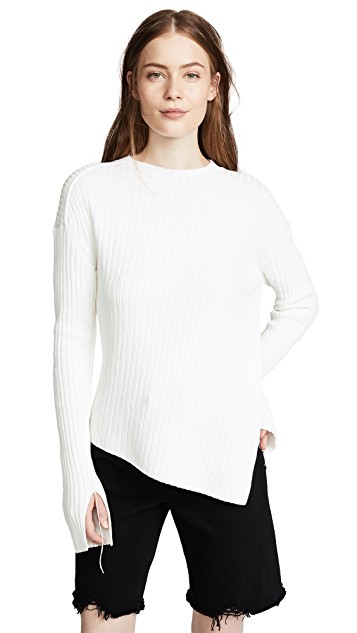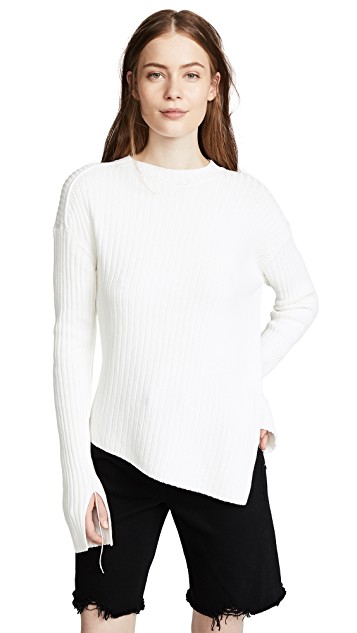 We're featuring some Helmut Lang favorites of ours. Fashion remembers two types of style icons through the decades – the first are people like Jackie O and Audrey Hepburn, who embody timeless class and elegance that people still try to capture today. The second is the daring and the avant-garde – people like Lady Gaga and Grace Jones, who continually pushed the bounds of fashion. Today, Helmut Lang is making their mark by trying to emulate both. The Austrian fashion house's newest offerings take unfussy classics – think crewneck sweaters and tailored pieces – and lend a little edge with details like rips, alterations and a typically "a quiet color scheme". Helmut Lang's simple statement pieces allow you to make them your own. (wear it your way) The all-black outfit looks great with the bright blue pop of color as seen with the architectural style mini flap-over bag. Pair anything you want with Lang's styles. I'm totally loving the black cotton pocket tee .
HELMUT LANG FAVORITES:
This Helmut Lang skirt takes a classic silhouette – the quintessential pencil skirt – and takes it away from the office drudgery by adding details like a decorative buckle and asymmetrical hem. You can mix colors or wear a simple monochromatic look. The pieces take on a fashion-forward vibe, with just enough chic to take it seamlessly from a casual office setting to post-work drinks.
Similarly, this Helmut Lang  crewneck sweater takes one of fashion's most versatile looks – a beige crew – and strategically adds an asymmetrical hemline and rips to lend an air of punk rock to a piece generally associated with sensibility and conservatism. Wear it to communicate your personal flair and play on classicism in favor of rocker chic. We also love the white twisted crew neck sweater with the asymmetrical hem. If CBGB's still existed, you would fit right in – but with the right heels and accessories, you wouldn't look out of place at a martini bar, either.  If you're looking for a funky yet minimalist look Helmut Lang is the way to go. Their styles are slightly different each season maintaining similar colors and designs. Although this season there are bright pops of color as seen in the pink blazer coat with the ragged edge. No reason a winter coat has to be dull or boring. If you're looking for embellishments (adopted by Prada, Miu Miu, Gucci just to name a few), you won't find them in Helmut Lang's collection. Click any of the purple links to indulge Helmut Lang!