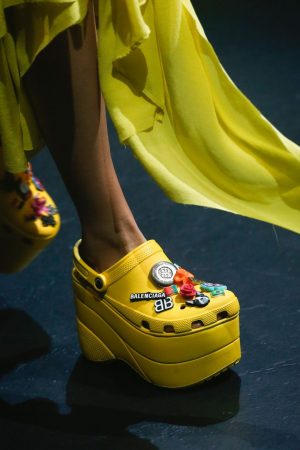 If you've wondered how you could look high-fashion while tending to your garden, Balenciaga has your answer: they're releasing a line of the historically frumpy, ubiquitous gardening shoes – Crocs – with their signature twists.
If you thought these would be a practical way to exercise your green thumb, think again: they've taken the basic silhouette and added details that range from the exotic to the ridiculous. Think four-inch platforms, foam spikes, and studded logos. Here's the best part: there's already a waiting list.
Just like anything Balenciaga sells, these beauties will sell out in minutes. Just like their recent sock sneaker, they'll be back ordered for months (Those, by the way, should never see the light of day unless you attend shuffleboard at the local senior center).
If you want a pair to have of your very own, it's time to get on the waitlist. If you don't think platform gardening shoes are your thing, we'll add you to our list of people who give us faith in the future of fashion. The sandals are – dare we say it – a total Croc.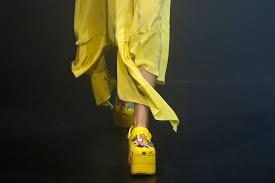 Would you wear them? Do you think their line is fashion-forward – or a footwear style we should leave in the past where it belongs? Click this link to check them out!
These are not my images and will be removed promptly if asked to do so.