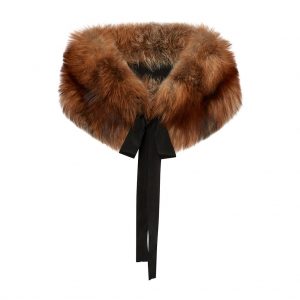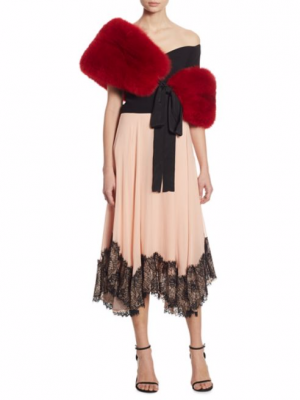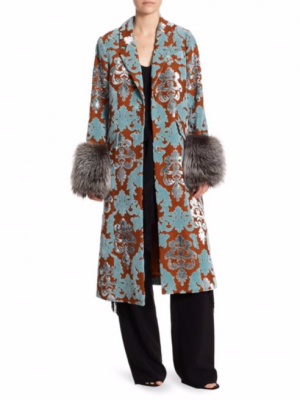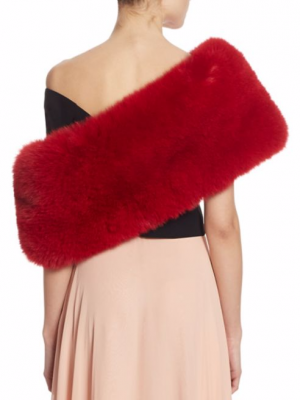 A fall runway usually brings a round of usual suspects: military stylings are in. "Unexpected" color combinations like peach and olive take over the catwalk. There are trench coats, trench coats, and more trench coats.
While a fabulous trench coat will always have a place in a woman's closet, I'm proposing trying something new fall season: accent your look with a stole.
Add Dramatic Flair to Your Fall Wardrobe
After summer's emphasis on low maintenance and minimalist stylings, it's nice to open a new season with a dramatic statement. This Fox-Fur stole from Cinq a Sept fits the bill with its luxe plushness and grosgrain ties. By choosing a power hue – a bold red – this stole manages to convey both empowerment and femininity.
Stoles are more for just the opera. Combine this with a dramatic lip and a shoulder-baring dress, and you're ready for any number of fall's special occasions. Consider this for a black-tie October wedding on the Upper East Side or an art gallery opening in Brooklyn. This stole is surprisingly versatile. For daytime, you'll love Cinq a Sept's Ameerah Fur Cuffs Bomber jacket that's on my must have the list for fall! Who can forget about the oversized fox fur trim cuffs on the ember-brocade coat? Three incredibly chic pieces for fall!
Go out of your comfort zone this fall, and you'll find this stole is much too pretty to hang in your closet. You might not even miss your classic trench. Click the purple links to indulge!