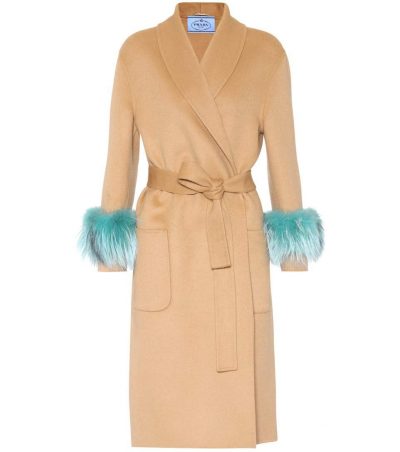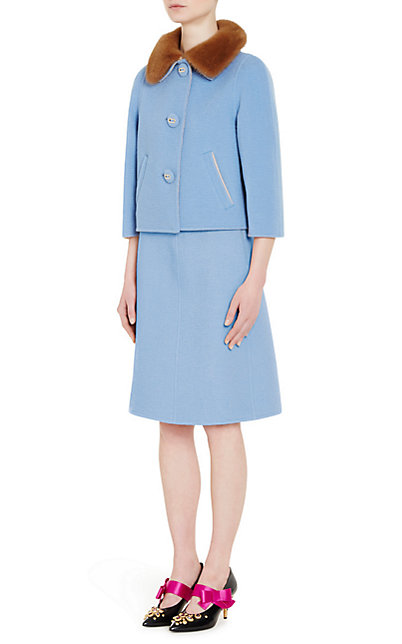 Summer may be just beginning, but we're already yearning for crisper fall days that bring back luxe favorites like statement ankle boots and statement coats that last season after season. If you're already beginning to assemble your fall wardrobe, here's a trend you should be paying attention to: fur trims.
While the addition of a fur trim is nothing new to outerwear, this season brings fun and modern twists. Fur trims can, without proper attention, look a little less high-fashion and more like something from Great Aunt Mildred's estate sale. So how do you toe the line between fashion forward and fashion flop?
Add a Unique Accent
Modern accents, like this splashy blue number from Prada, keep your outfits looking fresh. The gorgeous combination of wool and angora will make this robe-style jacket one of the season's most coveted pieces.
Prada's fur cuffed pieces are also coming in unique color combinations – we're loving this tartan-inspired plaid juxtaposed against cuffed fox fur.
If your aesthetic trends more toward the timeless, consider this Jackie-O inspired jacket instead. It offers classic structure and color, but the fur-trim color updates the look to the 21st century. There's always Prada's fur trimmed scarf if you're not eyeing a coat!
Though we may be in the beginning of the summer swelter, fall 2017's runway looks have us dreaming of chicer, cooler days. Click the purple links to indulge! Of course, our very favorite is the fur trimmed coat with the leopard print!