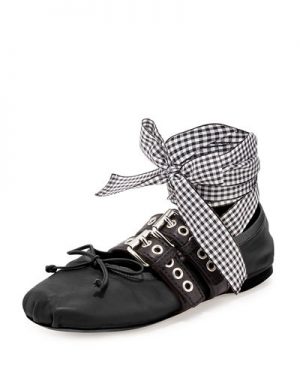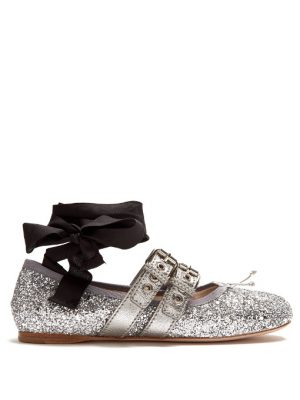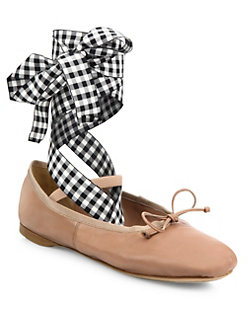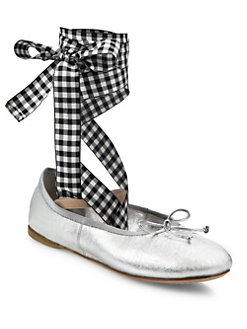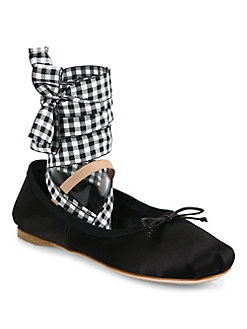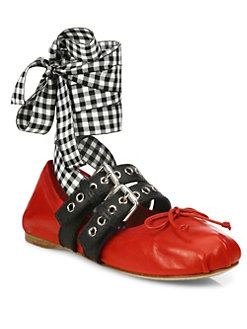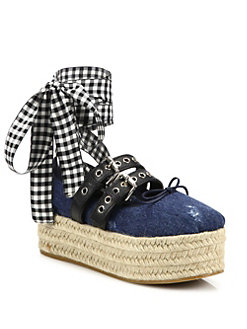 One of the most refreshing things about spring is putting away the clunky boots in favor of lighter options for your feet. We love the daring and bold statements of winter footwear, but after months of trudging around in ankle boots, it's nice to see a change.
That's one of the reasons we're all about this Miu Miu ballerina flat, a breath of fresh air for your feet. There's so much to admire about this season's hottest shoe – its playful aesthetic is perfect for the confident woman who's not afraid to have a little fun. As seen above: belted leather ankle ballet flat, the black satin ballet flat, the tan leather ballet flat, the (silver) metallic leather ballet flats, the denim platform ballet flat and the red double strap leather ballet flat. 
The shoe manages to mix elements that make a statement. Grosgrain ribbon, metallic shades, and gingham patterns effectively mix punk and femininity. It's like the designer plucked one of Degas' ballerinas offstage and put her in a Ramones concert in CBGB. It's a funky aesthetic, but it's one that works.
Make Spring Your Most Daring Season Yet
If you're only going to purchase one shoe this season, make it this one. It's versatile enough to combine with several different stylings (mod, feminine, androgynous, etc.), yet it's bold enough to make a powerful statement. It also seems to work for business or leisure. Pick up a pair of these shoes, before they sell out. Click the purple links or the actual images to indulge! We're loving the Mui Mui's Bordeaux -velvet buckle embellished ballet flats, pink leather ballet flats, white leather ballet flats and baby blue leather ballet flats. Notice the different tie wraps on each pair of ballet flats: black ribbon tie and gingham tie. Mui Mui shoes are definitely this season's best collection by far!