Fashion trends come and go. Some are decidedly awesome, while there are some we wish we could forget (Doc Martens, anyone? Jelly sandals?)
Some of this spring's best trends take cues directly from nature, and we're not talking florals. While flowers inevitably make their fashion appearance each spring, one of our favorite trends is decidedly more exotic. We're talking elephants, people.
The Elephant in the Room (Um, Runway)
The fashion industry began a cause for elephants last year, in an attempt to save them from being wiped off the face of the planet. Fashion has not always been forgiving to Mother Nature, so it's nice to see an effort to preserve the species. They have, in effect, taken the elephant out of the room and into the global spotlight. Love the yellow!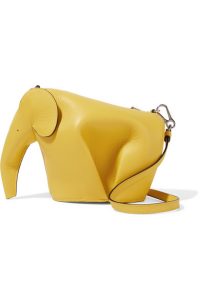 Elephants in Fashion
In the animal kingdom, elephants are known for both their social intelligence and decisiveness. That's one of the reasons I love this bag – it conveys power, boldness, and confidence while maintaining femininity. It's really the whole package. From an aesthetics standpoint, it's kitsch without being overdone especially the bright orange punk version. (notice the heavy silver chain, ear piercings, ball-chain tail and eye stud) What's next….the Panda Crossbody? (yup)
If you're looking for a piece that adds character to your spring wardrobe while communicating intelligence and social prowess, consider this bag. It's a lot for one bag to say, but this one manages it. Here are some of our favorite colors: electric blue, neon orange punk version, fuschia, multi-color stripes, pink candy and the black goes with everything you own! Click any of the purple links, colorful links or the actual images to indulge!