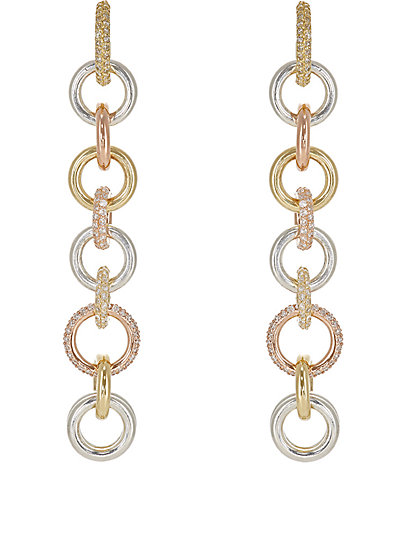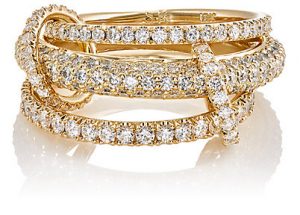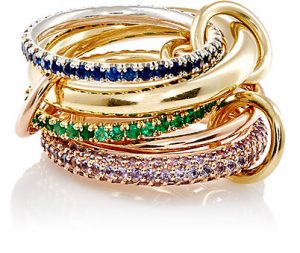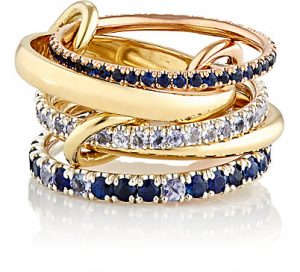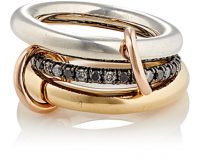 As we shake off the last of this winter's snow, it's time to shed our gloves and thick layers in favor of something a little airier, not to mention more glamourous. Since you can actually see your hands again, it's time to layer them with something festive. The new baubles from Spinelli jewelry offer intricacy and exquisite workmanship that will catch your friends' admiring glances again and again.
 Founded in 2010, Spinelli Kilcollin has made its mark with a signature look – bands with interlocking rings. The layered effect allows wearers to accent their look with their own styles. The L.A.-based brand manages to echo its home base in its homage to glam statement pieces with a celebrity following.
 Add These Pieces to Your Summer Wardrobe
 If there's one piece women will want to add to their summer lineups, it's one of its divinely crafted interlocking rings, like the Libra Ring. Made in combinations of white, rose, and yellow 18 karat gold, the Libra ring features pavé gray and black diamonds. Like its namesake, the Libra ring is charming, romantic, and harmonious in its discord. This is all the jewelry you need especially if you're not a "big jewelry wearer" like me!
 If earrings are more your style, Spinelli Kilcollin brings its signature interlocking ring look to these waterfall-style earrings, also in dazzling 18 karat gold. Shop these "wow" rings and more…The Chloe Ring, The Nova Rose Pava Ring, The Atlas Bleu Ring and more! Rings can be worn as shown or worn across two or three fingers for an even cooler look. Click the purple links to indulge.