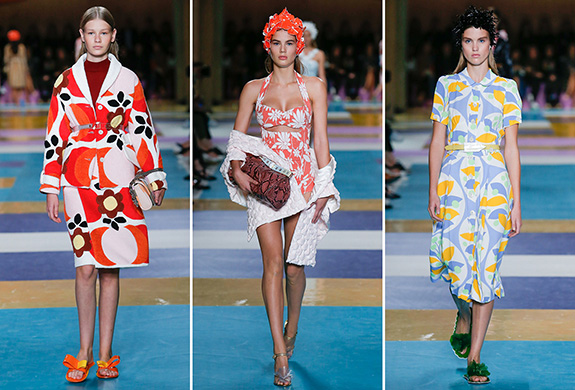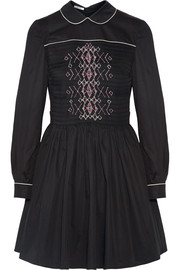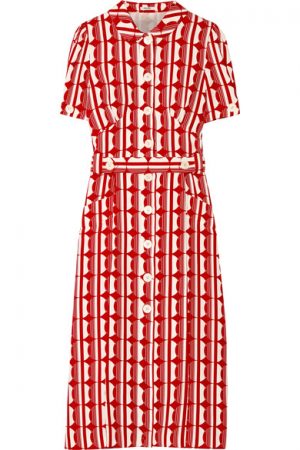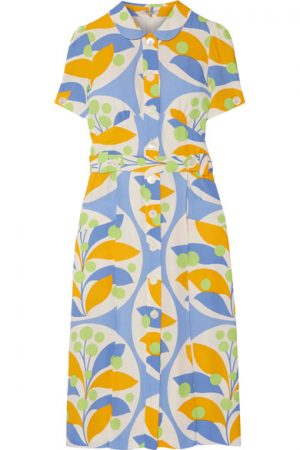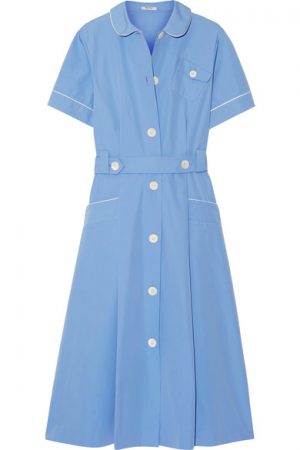 Spring is supposed to bring a breath of fresh air, both literally and figuratively. In fashion, it's the time we like to say "sayonara" to chunky boots and faux furs, ditching leather and layers for pieces that help us breathe and feel alive.
If you were looking to Miu Miu to help showcase your youth, look elsewhere: The fashion label's spring line might transport you to another era, but not one that will be flattering to your physique or femininity. The clothes especially the dresses just get worse and worse.
Let's start with this printed crepe midi dress: Personally, I find nothing wrong with the midi dress. (almost 3 grand) It manages to be playful and feminine, yet can be powerful enough for the workplace. But juxtaposed with this Magic Eye print and peter pan collar, it seems better suited for grandma's kitchen (if she were having a bad acid trip). Fine idea, bad execution. How about the Floral cloqué coat. Looks likes something the Queen of England would wear. Definitely not the fashion-forward person Miu Miu is trying to dress/impress. Not this season! OMG…these are the worst next to Gucci's spring line. The belted printed crepe midi dress looks like an old time nurses dress from a psych-ward (Remember…Nurse Rachet) and its over two thousand dollars. Seriously, give me a break! We've now shared four dresses from hunger. The smocked embroidered mini dress looks like what I wore to birthday parties when I was five although they weren't $2700. We've now shared 5 dresses from hunger!
As if that wasn't bad enough, Miu Miu is also throwing ruffles and gaudy embellishments into the mix. There's a lot going on in this dress: kitschy print, pastels, drop waist. It would be appropriate for a flapper, if that flapper were 85 and on her way to bingo night at the OK Corral. Add an edge with a cool pairs of earrings!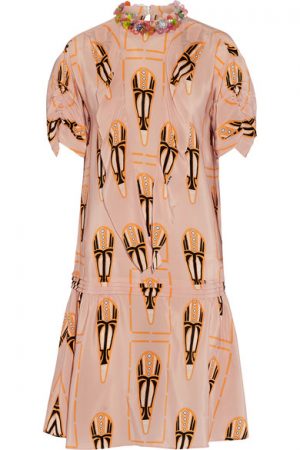 Again, some elements of this dress are fine – blush is a great spring neutral, for example. Miu Miu just needs to learn from this line and execute ideas better in the future. Click the purple links to gag or shop!